This article is more than 1 year old
Hollywood prepares to battle Asteroids
Plotless classic Atari game heads for the big screen
Universal Studios is preparing to bring Atari video game Asteroids to the big screen, despite the fact that the classic offers "no story line or fancy world-building mythology", as the Hollywood Reporter puts it.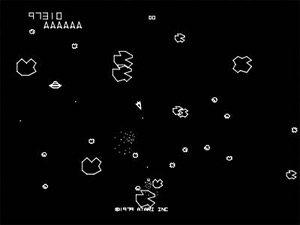 The studio, lacking the kind of supplied narrative which made Lara Croft: Tomb Raider a major cinematic triumph, is falling back on a skill which in Tinseltown appears of late to have gone the way of dry stone walling: It will, wait for it, "create a plot from scratch".
The man tasked with breathing life into Asteroids is one Matthew Lopez, a Disney-trained pensmith who's worked on Bedtime Stories and Race to Witch Mountain.
We suspect Lopez will start with the premise that there are large asteroids menacing Earth and that NASA, having ill-advisedly shut its virtual asteroid-busting training school due to budget cuts, is obliged to enlist the help of a couple of college kids whose granddad owns the sole remaining Asteroids arcade machine and are therefore the only two on Earth with the necessary dexterity to guide the laser-firing anti-apocalypse spaceship.
We recommend Bruce Willis as granddad to Zac Efron and Vanessa Hudgens, with Megan Fox as the NASA programmer who helps Willis once again find love following the death of his wife in a tragic Wii Fit accident. Michael Bay should helm, naturally. ®