Leccy Tech Ford has laid down some ambitious plans to grow the market penetration of its electric vehicles over the coming years.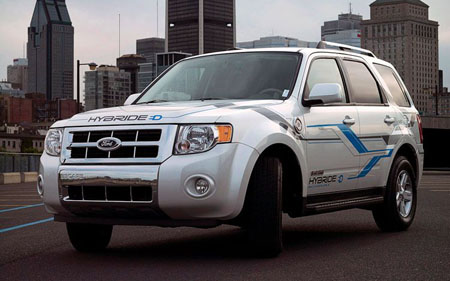 Ford's Escape plug-in hybrid: just one of the many e-cars it hopes to shift in coming years
Nancy Gioia, Director of Ford's hybrid vehicle program, said the company expects leccy vehicles to account for between ten and 25 per cent of its car and light truck output by 2020, according to a report by Reuters.
To put that into context, Ford sold just shy of 2m vehicles in North America last year. So it's reasonable to assume that Gioia's forecast could translate into leccy car sales of between 200,000 and 500,000 units.
That's a substantial percentage of the 1m plug-in electric vehicles that President Obama recently said he wants to see on North American highways by 2015.
Of course, having just received $5.9bn (£3.6bn/€4.2bn) in low interest Federal loans to help develop leccy vehicles means Ford can be more than a little bullish about its e-car future.
Ford's first e-car - an electric version of the Transit Connect van – is due to go on sale next year in North America. This will be followed up by the launch of a battery-powered passenger car in 2011.
A plug-in hybrid vehicle based on the next generation Focus - to compete with General Motors' Chevrolet Volt - is also expected to arrive in 2012.
Ford already has a small fleet of plug-in hybrid Escape SUV's operating in North America. Most are being run by a select group of utility companies to provide Ford with some real-world e-car operational analysis.
In Blighty, a couple of battery-powered Ford Focus e-cars will soon be used by staff from Scottish and Southern Energy as part of the government's £25million ($41m/€29m) e-car trials. ®