Apple has finally admitted that the iPhone 3GS can suffer from heatstroke, kind of.
In a support document on the its website, Apple has urged customers to use the iPhone 3GS "in a place where the temperature is between 0°C and 35°C". It can be stored anywhere the temperature doesn't stray out of the -20°C and 45°C range.
Lower or higher temperatures may, Apple said, shorten the phone's battery life or cause it to temporarily stop working.
The same rules apply to the iPhone 3G, Apple warned.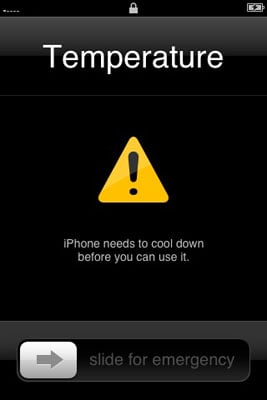 Power down now - or else...
Earlier this week, Register Hardware reported how numerous iPhone 3GS owners had started complaining about scorch marks on the phone's rear plastic panel. It's been claimed these appear after the phone becomes hot to the touch.
But Apple hasn't made reference to any such problems on its support page.
The company did add, though, that both iPhone 3G models may stop charging, suffer dimmed displays or weakened network signals "if the interior temperature of the device exceeds normal operating temperatures".
To avoid this, make sure you don't leave "the device in a car on a hot day" or "in direct sunlight for extended amounts of time", Apple suggested.
"Using certain applications in hot conditions or direct sunlight for long periods of time, such as GPS tracking in a car on a sunny day or listening to music while in direct sunlight," it added.
Apple said the iPhone complies with key safety standards in the US, Europe and Down Under. ®
Similar topics