Psystar, the Florida-based Hackintosher that's been giving Apple fits for over a year, refuses to die.
The Unofficial Apple Weblog (better known amongst fanbois as TUAW), published a copy of the upstart clonemaker's latest newsletter, which announces to its customers that not only is the company preparing to emerge from Chapter 11 bankruptcy proceedings, but is also offering a new tower based on Intel's quad-core, 2.66GHz Xeon W3520 at the bargain-basement price of $1,499.99.
We won't recount all the twists and turns in the on-again, off-again legal battle between Psystar and Apple - after all, we did that just last week when Apple convinced a Florida bankruptcy court to allow Cupertino to continue its copyright-infringement case against the pesky Hackintosher.
But today's news brings to mind the wisdom of ballpark sage Yogi Berra, who famously said: "It ain't over till it's over."
And it most certainly ain't over - at least from Psystar's point of view.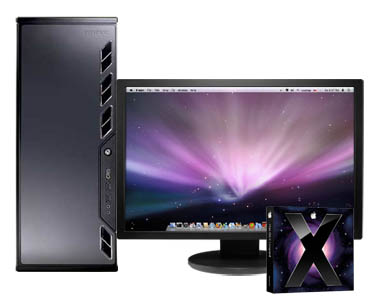 Psystar's Open(7): $1,499.99 - display not included
The company's newsletter, referring to their May filing for Chapter 11 bankruptcy protection, says that Psystar is "now ready to emerge and again battle Goliath."
The Hackintosher's latest weapon in this battle, dubbed the Open(7), is available on the company's website ("In stock") with either 6GB or 12GB of 1333MHz DDR3 SDRAM, and either 7,200rpm or 10,000rpm SATA2 drives. Apple's Xeon 3500-series entry-level Mac Pro configuration, by comparison, tops out at 8GB of 1066MHz DDR3 SDRAM with 7,200 rpm drives, and starts at $2,499.
The Open(7), according to the newsletter, also benefits from "our innovative three-layer sound-deadening side panels and front door" which make the tower the company's "most quiet computing configuration available."
"Quiet," though, is not a word easily used to describe Psystar's attitude in this ongoing battle, as evidenced by the newsletter's closing line. "When life gives you apples," it reads, "make applesauce." ®