Panasonic TX-L37V10 LCD HD TV
The clutter-free viewing experience?
Review The first manufacturer to launch TV sets with integrated Freesat, Panasonic moves things on again with its 2009 Viera range. On paper, the TX-L37V10 is appears to be everything you'll need for living room viewing – a satellite and terrestrial TV with a network media player, and access to Internet services such as YouTube. For many, it looks like the ultimate all-in-one solution.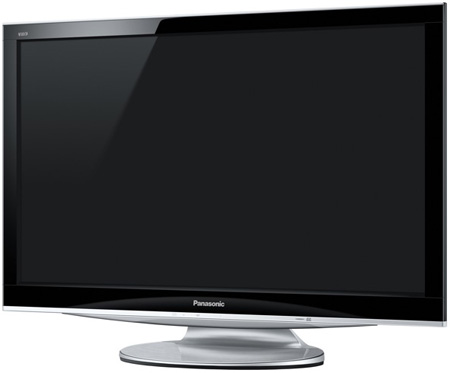 Panasonic's Viera TX-L37V10 LCD HD TV
The TX-L37V10 is just above the middle of the Viera range. There's a smaller 32in LCD, and plasmas in 42, 50, 58 and 65 inch screens. Like the slightly cheaper G15 models, it includes VieraCast online services and DLNA streaming, but claims a contrast ratio of 100,000:1 rather than 50,000:1. Although the suggested price seems high, the street price has it pegged at less than £1000.
It's a reasonably slim set, with most of the socketry on the back panel. The left side has an SD card slot, and a 3.5mm headphone jack, while the right has the main power switch, TV, and AV selectors, plus function, up and down buttons which, together, let you manage the basic settings.
There are three main HDMI inputs on the rear, also two SCARTs, a component and a PC style VGA connector. The first HDMI port can be switched to use the phono sound input on the component port, if you're connecting with a DVI adaptor. Phono audio outputs are provided, along with optical digital, plus Ethernet and connectors for satellite dish and UHF aerial.
Instead of a side HDMI port the fourth one points downwards. It's just left of centre at the rear bottom and not quite as fiddly to use as it sounds. There are no S Video or composite sockets, but the SCART sockets accept these signals.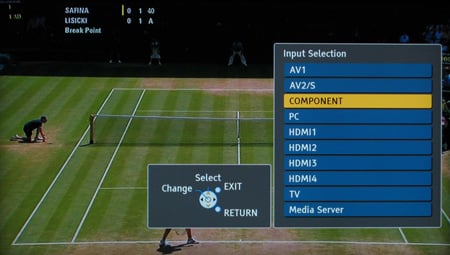 A multitude of ins
Installation was almost entirely automatic. As soon as the set was turned on it scanned for channels on Freesat, Freeview and analogue, before requesting a postcode to line up the correct Freesat regional variations. It then asks if it is in a shop or at home; the latter option also allows you to set a PIN and enter your name and postcode.