Power boffins have developed a prototype battery that's not only lighter and thinner than existing power cells, but is produced using a printing process.
Weighing in at less than 1g and measuring less than a millimetre thick, the 1.5V battery is printed using a silk-screen technique, similar to that used for T-shirts. A "rubber lip presses the printing paste through a screen onto the substrate", scientists at the Fraunhofer Institute in Germany said. A mask marks out the area to be printed.
This process means the battery can be produced very cost-effectively, the development team believes.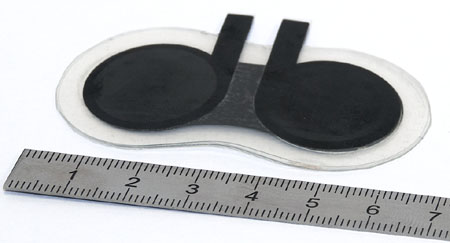 This battery was printed and can power limited-lifespan gadgets
Although super-slim, the battery consists of several layers, including a zinc anode and a manganese cathode, which react with one another to produce electricity.
By placing several 1.5V printed batteries in series, higher voltages of 3V, 4.5V and 6V can also be achieved, the boffins claimed.
However, the team admitted that the battery is best suited to "applications which have a limited life span or a limited power requirement", such as greeting cards. The battery isn't rechargeable.
But the battery's slim design does, in theory, mean it could be integrated into, say, a bankcard, the designers added.
The researchers have already produced the batteries in the lab and, by the end of this year, aim to have "product-ready" versions available. ®