This article is more than 1 year old
UK taxpayers pay for Silicon Valley bloggers' holiday
Brits pay for Web 2.0 lotus eaters
A group of wealthy Californian bloggers are taking a holiday in the UK this month - and the taxpayer will help foot the bill.
Calling themselves The Traveling Geeks, the bloggers will spend a week here meeting other bloggers. In addition to corporate sponsorship, they're getting a helping hand from NESTA, the lottery-funded innovation quango, and BERR, the Department for Business Innovation and Skills. Two BERR-funded quangos - Think London and East of England International - are providing public money for the jaunt.
BERR refused to disclose how much it's contributing. Or more accurately, would only tell us if we promised not to publish the figure.
"You'll have to put a FoIA request in for that," said Karyn Barnes of the East of England International Agency.
Paying for holidays is a departure for the business development agency. Part of UK Trade and Investment, it typically sponsors events from visiting businesses seeking to invest in the UK, and visits for UK companies - all laudible wealth-creation. So why pay for a Web 2.0 bloggers' jaunt?
"They are social media creators, and create blogs and podcasts," Barnes told us.
Susie Squires of the Taxpayers Alliance wasn't impressed by the Travelling Geeks, or the argument that they should get public funding.
"It's an insult to ordinary taxpayers struggling in the recession that their hard-earned cash is being used to pay for holidays. This scheme is of no tangible benefit whatsoever, and no more money must be frittered away in this manner. People pay their tax for good public services and clean, safe streets, not for this sort of nonsense."
"The trip's a junket," is how one of the Traveling Geeks, Susan Mernitt, described last year's holiday in Israel.
Ms Barnes admitted she hadn't seen the Geeks' output from last year's holiday before making the funding decision. Examples of technology coverage are pretty scant, but include this, a profile of "Ayelet Noff, The Social Media Queen".
The National Endowment for Science, Technology and the Arts (NESTA) is lottery, rather than taxpayer funded, but UK science innovators who need funding will be curious for an explanation. A spokesperson provided us with this statement:
"The 'Travelling Geeks' programme will bring together the world's experts in the fields of digital technologies and social networking for the benefit of the UK. By bringing together a group of pioneers of this calibre, we will help put UK businesses, especially the UKs brightest and most innovative start-ups, at the forefront of digital innovation. Something that will have long term benefits to UK businesses and policy making."
[Our emphasis added]
That's a revealing comment. The two agencies have different ideas of what they're getting. And it shows that NESTA believes (or wants us to believe) that the visiting bloggers are innovators and entrepreneurs, rather than pundits. But apart from Craigslist's Craig Newmark - famed as the nemesis of the newspaper publishing business - it's hard to find a successful business entrepreneur in the group.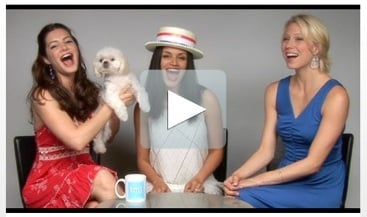 Digital innovators like this, says Nesta, will benefit UK businesses and policy-making
The bloggers include Sarah Lacy, author of Once You're Lucky - Twice You're Good: The Rebirth of Silicon Valley and the Rise of Web 2.0, Robert Scoble and Renee Blodgett, who blogs about food and public relations. Silicon Valley heiress Meghan Asha (above), who in her bio says she's trying "to put the sexy back into tech". Asha was dubbed by Gawker as a "nontrepreneur", after launching the now-dormant chick site NonSociety, and will be addressing a Nesta conference on the topic of gender.
You can follow their trip here. ®