This article is more than 1 year old
X2 supercopter in first tail-drive flight
Sikorsky preps Osprey bitchslap
US-based whirlybird megacorp Sikorsky announced yesterday that its "X2" high speed helicopter prototype has now made test flights using its tail propulsor. The aircraft had already flown, but only using its main rotors.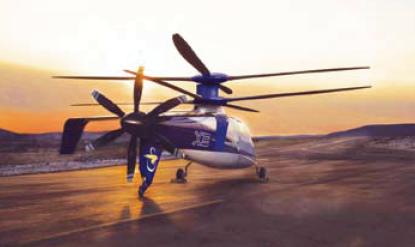 Third prop's the charm, apparently.
The idea of the X2 is to achieve a helicopter which can cruise twice as fast as ordinary whirlybirds, even exceeding the speed abilities of tiltrotor aircraft like the V-22 Osprey and the BA609. While being fast, X2 choppers would also offer superior hover performance to that of tiltrotors; and perhaps easier maintenance and operation.
The X2 is intended to achieve all this by the use of two main rotor sets spinning in opposite directions. This avoids one of the problems suffered by ordinary helicopters attempting to go fast, the issue of "retreating blade stall" - where the backwards-going blade briefly becomes almost stationary with respect to the air it cleaves owing to the aircraft's forward speed, so losing lift on one side of the rotor disc. An X2 or other stacked-rotor copter has forwardgoing blades on both sides, however.
That's just one of the snags to be solved, though. As the retreating blade slows, so the forward-going blade tips tend to go supersonic as the helicopter accelerates. In general this is hard to deal with, as most choppers spin their rotors at a fixed rpm.
But the X2 has variable speed equipment, allowing it to slow the blades' spin as it speeds up and so keep the blade tips safely subsonic. It also has modern superstiff low-drag rotors and active damping tech, which Sikorsky hope will quell the violent vibration which bedevilled previous efforts along these lines.
As the twin main rotors counteract each other's torque, an X2 needs no side-thruster on its tail for steering. This means that it can put a forward-driving propellor there instead, to provide the extra thrust necessary to reach high speeds. A previous attempt at an X2-like aircraft, the XH-59A demonstrator, used extra strap-on jet engines instead: but these made the XH-59 overly heavy and complex, and a fuel hog besides. Sikorsky believe that their tail prop driven from the X2's single turbine is the way forward - smaller X2 craft of the future could also be single-engined and thus probably cheaper to operate than tiltrotors.
All that said, the moment of truth is still not here for the X2. The just-announced flights with tail drive in use, made on Tuesday by Sikorsky's chief test pilot Kevin Bredenbeck, saw maximum speeds of just 52 knots. In coming months the X2, having been thoroughly shaken out and tested at lower speeds, will start working up towards its design speed of 250 knots (290 mph).
It appears that the trials are going well so far, however. Bredenbeck said that "vibration and noise levels were very low" with the propulsor engaged.
"Certainly we've got much more to do," said Sikorsky R&D veep Mark Miller, "but interest continues to grow... These are exciting times."
Miller needs interest to grow, because so far Sikorsky has no customer for production X2 craft. The firm is developing the idea with its own money for now, though there have been some small US government contracts for design studies on large heavy-lift versions. ®