This article is more than 1 year old
Amazon may plug in-book advertising into Kindle
On-demand paperbacks too
Amazon may embed advertising in e-books for the Kindle as well as paperbacks sold through its on-demand book publishing service.
A pair of US patent applications point to the online retailer's vision of plugging modern tat through classic lit with advertisements custom-tailored to the content.
The patents are titled "On-Demand Generating E-Book Content with Advertising" and "Incorporating Advertising in On-Demand Generated Content." In them, Amazon claims that while on-demand printing provides access to a wide variety of content, including out-of-print and rare material, the books alas "typically do not include advertisements and, if they do, the advertisements are out of date and inapplicable."
While on-demand printing hasn't yet "adapted to modern marketing," the patent states, many "free" internet sites are able to operate at a profit by serving up ads along with their content.
The patent applications explain that embedded ads could be contextually sensitive. For example, Ann of Green Gables could include pitches from the Cavendish tourism board, or the ending of The Great Gatsby advertisements to local automotive repair shops. Alternatively, the ads could be targeted to a customer's general interest based on their Amazon user profile.
While the idea is sure to make some uneasy, it would appear the upswing to Old Man and the Sea sponsored by Red Lobster or Paxil Presents: 1984 is that ad-supported literature may come at a discount.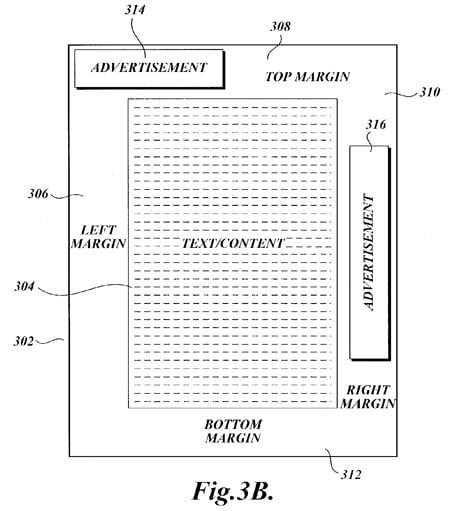 "Including advertising and/or related content with on-demand printed content may prove advantageous to a consumer. For example, a lower price may be offered to a consumer regarding a request for on-demand printed content if the consumer is willing to accept advertising in the printed content," the applications state.
The above appears to indicate that ad-free books would also still be an option for those willing to pay full price.
In addition, Amazon reckons the contextual-ad technology could be used for including useful supplemental reference material for on-demand educational content - but doesn't go into much detail "for the sake of simplicity."
Perhaps advertisements in e-books was an inevitability, but including them in printed material is a bit surprising. For those who consider the printed word sacred, remember a thick black marker makes for a workable analog to Ad-Block. ®