Having been relieved of the burden of having to make a jam sandwich, those without either the time or the intellectual capacity for basic culinary tasks can now avail themselves of the latest word in labour-saving foodstuffs: Preboiled free range eggs.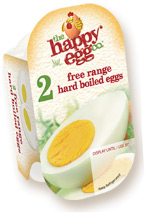 Yup, the Happy Egg Company will, for just 89p for two or £1.49 for four, boil your eggs "to perfection" for you, whip off the shells and deliver them for collection to the nearest Asda, Waitrose or convenience outlet chain One Stop.
As the company's blurb puts it: "Why wait for your hard boiled eggs to boil when you can now have one in the blink of an eye."
According to the Telegraph, the Happy Egg Company's marketing supremo, Rob Newell, enthused: "Happy Boiled Eggs are the perfect solution for people who love free range eggs but don't have the time or knack to prepare a boiled egg. As the summer months approach, we are confident they will be a real hit for picnics and offer fresh inspiration to those wanting a tasty and nutritious snack in minutes."
In case you're wondering just how happy these eggs are, the hens on the free range coalface are apparently "free to roam on green pasture and are equipped with perching platforms and sandpits to enhance the birds' natural surroundings".
Given the retail price of their preboiled produce, we have no doubt that they'll soon also be enjoying outdoor hot tub facilities, piped chillout whalesong in the egg-laying areas and personal masseurs. ®
Bootnote
Anyone out there who's too thick even to work out what to do with an egg that someone else has boiled for them should note that "as well as being eaten on their own, the eggs can be chopped and served in sandwiches or as part of a summer salad".