Leccy Tech US firm Brammo has finally put its Enertia e-bike on general sale.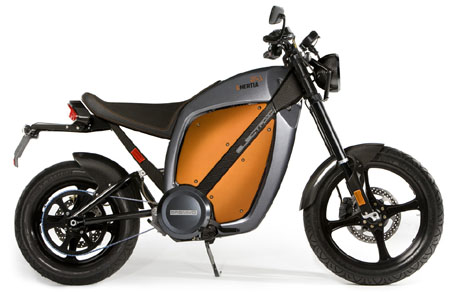 Brammo's Enertia: available to US buyers for $11,995
Although currently only available in Brammo's native North America, the e-bike carries a price tag of $11,995 (£7,400/€8,600). US buyers will be able to deduct $1,199 (£740/€860) from the price, though, due to the 10 per cent Federal Plug-In Tax Credit.
As for the Enertia's features, you're looking at a clutchless twist-and-go e-bike with a 45 mile range and a top speed of over 55mph. The e-bike can also scoot to 40mph in just a fraction under six seconds, Brammo claimed.
The bike's grunt comes from a 13kW (18bhp) electric motor connected to a 3.1kWh battery pack. A full re-charge from a domestic wall socket takes around three hours, added Brammo.
If the Enertia looks familiar it's because Brammo entered two of the e-bikes into the recent Isle of Mann TTxGP. One of the pair ran with a customised race tune, but failed to finish.
The second Enertia – which ran with an 8.1kWh battery pack - came home third. It also covered the TT course at an average speed of 75.3mph, a speed that's sadly well beyond the capabilities of the basic retail version now available to buy.
However, Brammo's inked plans to launch a new bike partly based on the race technologies used in its two TTxGP Enertias. Although the firm has said relatively little about the configuration of either bike – aside from the 8.1kWh battery pack, the upcoming model will feature an uprated battery pack, electric motor and improved suspension. It's due to be announced before the end of 2009. ®