EMC wins Data Domain with $2.1bn offer
NetApp blinks
NetApp can't beat what EMC is offering for Data Domain. The company said on Wednesday it will not revise its proposal to purchase Data Domain to outdo EMC's new uprated bid.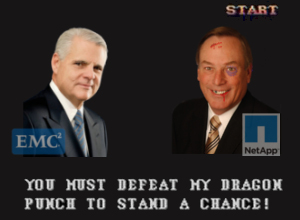 Data Domain said it coughed up a $57m termination fee to NetApp under the terms of its previous merger agreement, ending a six-week bidding war over the data deduplication specialist.
EMC's winning all-cash bid of $33.50/share values Data Domain at about $2.1bn.
The Data Domain board had previously rejected EMC's unsolicited all-cash $30/share offer in favor of an equally-priced bid from NetApp in both cash and stock. Both companies wanted to assimilate Data Domain's market-leading dedupe storage array products into their own offerings.
NetApp CEO Dan Warmenhoven said in a statement that while buying Data Domain would have produced benefits for customers and employees, the company is "highly confident" in its existing competitive strengths.
"NetApp applies a disciplined approach to acquisitions, one focused intently on creating long-term value for our stockholders," he said. "We therefore cannot justify engaging in an increasingly expensive and dilutive bidding war that would diminish the deal's strategic and financial benefits."
In other words, it's not worth going hungry just to say you beat EMC.
Data Domain's board of directors said they've unanimously agreed to a merger with EMC and said the terms are in the best interest of Data Domain and its stockholders. ®