Freecom has launched an external HDD that will only grant you access to its data if you're the bearer of the keycard.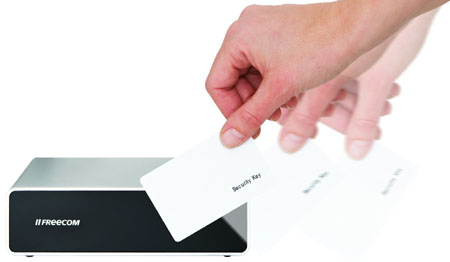 Freecom's Hard Drive Secure: controlled using an RFID card
Admission to the Hard Drive Secure is controlled by an RFID card which you swipe once over the HDD to lock it and again to unlock it. Entry is granted "within seconds", Freecom claimed, and the drive comes with two RFID cards – in case you lose the first or want to grant a chum access to your disk.
The idea may sound innovative, but some may argue that Freecom's just adding an unnecessary layer of complexity to data security. Drives with fingerprint readers have been around for a while - none coming with the risk you might lose your access card.
Freecom's Hard Drive Secure is available now in four capacities, ranging from 500GB to 2TB. Prices start at €120 (£103/$166). ®