'Metal muscle' memory-alloy robot flapper bat shown off
Can droid chiropterthopter get off the ground?
Boffins in North Carolina have announced that they are hard at work on a robotic bat which will have a skeleton made of "shape-memory alloy" and flap its wings using electrically powered "metal muscles". The palm-sized robothopter is intended for use as a military surveillance platform, or Micro Air Vehicle (MAV).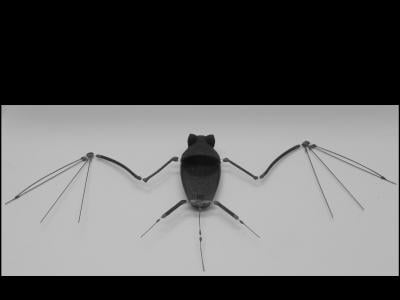 What all the the flap's about.
"The key concept here is the use of smart materials," says Dr Stefan Seelecke of North Carolina State Uni, one of the top men in the field of robotic bats.
"We are using a shape-memory metal alloy that is super-elastic for the joints. The material provides a full range of motion, but will always return to its original position – a function performed by many tiny bones, cartilage and tendons in real bats."
Apart from the memory alloy skeleton, the droid nightflyer features smart metal muscles.
"We're using an alloy that responds to the heat from an electric current. That heat actuates micro-scale wires the size of a human hair, making them contract like 'metal muscles'," explains Seelecke. He adds that the advantage of this approach is that it provides feedback automatically.
"During the contraction, the powerful muscle wires also change their electric resistance, which can be easily measured, thus providing simultaneous action and sensory input," adds the robobatty boffin. "This dual functionality will help cut down on the robo-bat's weight, and allow the robot to respond quickly to changing conditions – such as a gust of wind – as perfectly as a real bat."
The NCSU scientists argue that at the small MAV scale, flapping-wing ornithopter flight is potentially more efficient and manoeuvrable than traditional approaches such as helicopters or ducted fans. This line of thought is also under investigation by DARPA, the renowned US military mad-professor bureau which - were it a church tower - would surely offer a belfry hospitable to NCSU's memealloy metallo-muscle chiropter-thopteroids.
Other boffins have already robustly pooh-poohed such batty notions. Details on the NCSU project - including notice of an upcoming conference outing in California for the robo flapbat team - can be seen here. ®