Exclusive Want to know 3G coverage in your area? After weeks of refusing to do so, telco quango Ofcom published a coverage map today. That's what it's supposed to do, you'd think. Cell operators are obliged to provide information to the regulator, and know the signal strength down to a few feet.
But we can reveal that for weeks, Ofcom's quangocrats had been busy working to prevent the map being published in public - and initially refused to disclose the information under the Freedom of Information Act. It deals a severe blow to Ofcom's claim that it has the consumer's or the market's interests at heart.
Reader Simon Fluendy - a former business journalist - requested the information for both 2G and 3G networks under FoIA in April. He wrote to Ofcom:
I would like a map showing mast location and usable signal coverage for each of: 1. GSM 2. 3G

Failing this, I would like the details from the regular surveys of coverage undertaken on behalf of Ofcom.

I would also be interested in any documents comparing mobile network coverage in the UK with other major developed countries (OECD for instance).
In June, the word came through: bugger off.

Own-brand Ofcom bottled water [source]
Ofcom replied:
I am writing to advise you that Ofcom is unable to disclose the information you requested.

The information you have requested is being withheld as it falls under the exceptions in Regulation 12(4)(d) and 12(4)(e) of the EIR. Regulation 12(4)(d) is where the request relates to information which is unfinished or in the course of completed. Regulation 12(4)(e) is where the request involves the disclosure of internal communications.
That Ofcom's map is "internal communication" is a neat tautology - it's only "internal" because er... the information hasn't been made available externally, to us.
And Simon's verdict?
"People buying 3G dongles should note that they have little chance of using them outside the M25. Coverage is a disaster for everyone apart from us urbanites. If I was the Welsh or Scottish Assembly, I would be up in arms."
Ofcom likes to think of itself as "market friendly" - but a market isn't a market, as Adam Smith pointed out, if the buyer has imperfect information.
And the 3G map that Ofcom grudgingly published today redefines imperfect. Take a look at an area with a population of over eight million - the South East of England.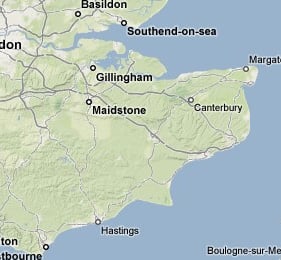 Here's the Ofcom's Vodafone contribution, magnified to 400 per cent: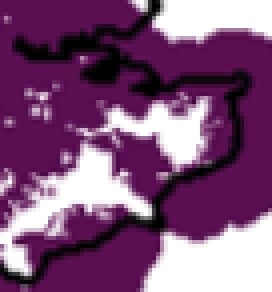 It isn't very useful for working out whether it works in your street. Or in Pease Pottage.
And it's more than six months out of date.
Ofcom goes to great lengths to prevent this data being disclosed to consumers. Last year it went to the High Court to prevent the publication of the information the public needs in a form that's useful: a national database, even though it has the identity, location and strength of every cell tower. (As we can see in SiteFinder).
So market-friendly in the Ofcom dictionary translates as: "Cosy with a handful of suppliers, whose interests it guards jealously, preventing the market from working better." ®
Similar topics