iPhone App Review The England and Wales Cricket Board hasn't had a great deal to shout about lately, what with the Stanford debacle and the recent rather tasteless photoluv shootout of Sir Flintoff of Flanders. But here, at last, is something it can be proud of, the ECB iPhone app has arrived just in time for the biggest cricket event of the year, The Ashes.
The ECB app keeps you informed of the scores in all major matches in the UK and international competitions. These appear as a list that you can select from for more details. However, there is no mention anywhere of the competition being played, such as County Championships or 20/40 over matches. Certainly, future updates would benefit from this and perhaps a fixture list too.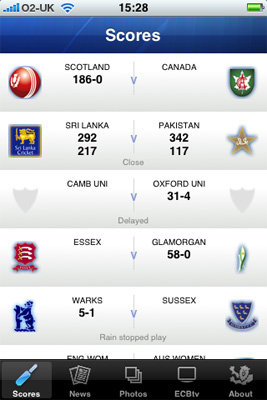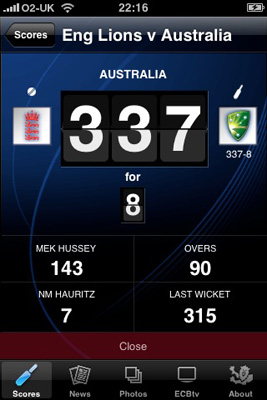 Click on a listed match to bring up the scoreboard
Along the bottom of the screen are buttons for scores, news, photos from current matches and a link to ECBtv, which is hosted from Youtube and includes some great interviews with movers and shakers of the game. The video quality is good although there is no match footage. The news is fairly interesting, and the photos aren't bad either although it could be sluggish to load this content at times.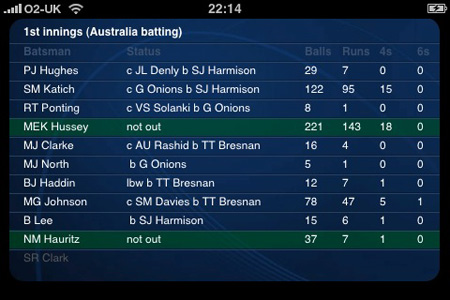 Score details appear when the iPhone is turned to landscape view
Selecting a game from the scores listing brings up a traditional scoreboard for that match, but turn your iPhone horizontal and details of the innings are displayed – just tap the screen to switch between batting and bowling figures. Strangely, balls faced are recorded in a column before runs, which can be confusing, but is the only criticism of this sleek, uncluttered interface.
Since ECB Cricket has been released, Sky Sports and ESPN have launched their own apps. While both of these address some of the shortcomings of the ECB app, neither has video links. The ESPN Cricinfo mobicast app is extensive and free, but content seems skewed towards the Asian fan. There is a wealth of information, but you tend to have to scroll down quite a way to access details of the English game. The Sky Sports Cricket Score Centre offers you fixtures, league tables and ticker tape news but, at £1.79, it delivers nothing extra to warrant its price.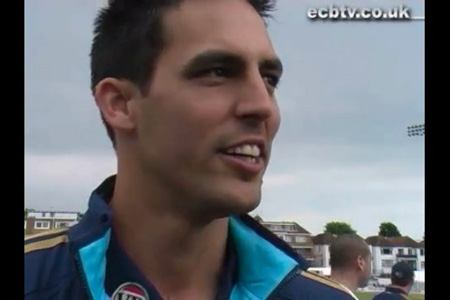 ECBtv: Mitchell Johnson shows his sensitive side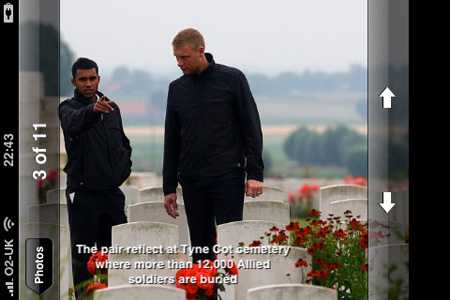 When this wretched tour is over Freddie...
However slickly presented apps of this kind are, they are merely portals to content and can only be judged upon speed and access to this material. With the ECB having sold match TV rights to Sky and not having top quality in-house writers or the fantastic community of Cricinfo available, it seems unlikely that ECB Cricket will have much more to offer in future than it does currently.
Verdict
With English cricket being more or less seasonal phenomena and just a few internationals beyond September, the ECB Cricket app won't be attracting many subscribers over the winter months unless its content embraces overseas domestic matches. Even so, by comparison to the ECB's rather dusty and neglected website, the ECB iPhone app is a revelation and is thoroughly recommended for keeping in touch with the Ashes and the English domestic game this summer. Certainly it seems the ECB are onto something here but, if tradition is anything to go by, someone else is bound to make a packet out of it. ®

ECB Cricket 1.0
Scores in more ways than one with its coverage of domestic and international matches.
Similar topics