This article is more than 1 year old
Patriot Torqx 128GB SSD
The new solid-state speed champ
At this point we were in two minds about the Torqx as it uses the same hardware as the OCZ Vertex, it costs the same and the performance of the Torqx on firmware 1370 is very similar to the Vertex on firmware 1.10, which is what we used at the time of our original review.
In other words there is no compelling reason to choose the Torqx over the Vertex.
2GB Data Transfer Test Results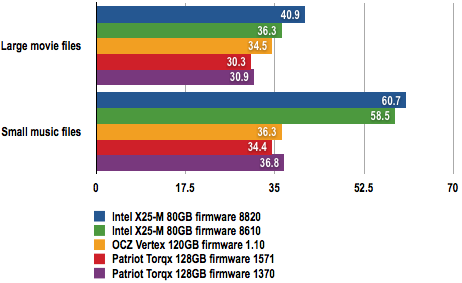 Data transfer time in Seconds (s)
Shorter bars are better
As we had updated the Torqx to firmware 1571, it only seemed fair to install the latest firmware, 1.30, on the Vertex. The updating process for the Vertex is considerably simpler than it is for the Torqx. We burned a downloaded .ISO image to CD and booted the PC with the Vertex installed as a secondary drive. There's no need for a configuration jumper with this process.
The Vertex was updated in a matter of moments, and we were pleased to see that the data wasn't wiped. Unfortunately, that was the end of the good news as the Vertex wouldn't boot properly and the performance was all over the shop. We bit the bullet, formatted the drive and re-imaged it and... no joy.
HDTach 3.0.1.0 Bandwidth Test Results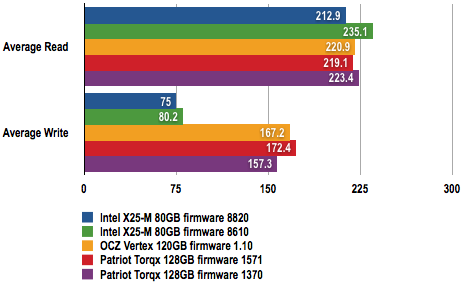 Data Transfer Speeds in Megabytes per Second (MB/s)
Longer bars are better
Try as we might the Vertex didn't want to play ball with firmware 1.30 and we feared that the drive was bricked.