This article is more than 1 year old
Apple punts Safari update
Anti-crash course?
Updated Apple today upgraded is Safari browser to version 4.0.2, promising improved stability of its Nitro JavaScript engine.
Whether this update will solve the pesky crashing problems reported here and elsewhere remains to be seen. We've been running it for a couple of hours with no problems - but intermittent crashes have an annoying habit of occurring whenever they damn well please.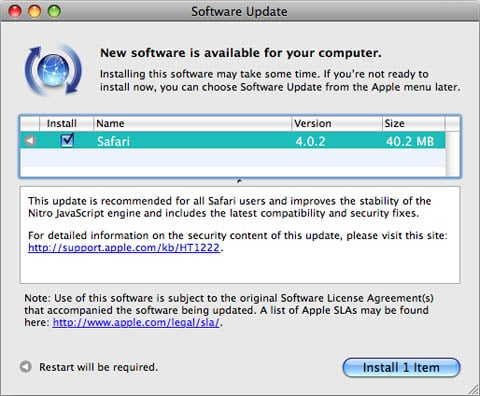 Don't bother with that link to "detailed information"
Apple also states that Safari 4.0.2 "includes the latest compatibility and security fixes," but unfortunately, the Apple security updates page that Software Update directs you to for "detailed information on the security content of this update" hasn't itself been updated to include Safari 4.0.2 - at least not by mid-afternoon here in San Francisco.
Safari 4.0.2 can be installed using Software Update or downloaded from Apple's Support Downloads site. ®
Update
We received word Thursday from the developer of LazyMouse, a System Preference that was known to crash Safari on some websites due to Apple's browser not implementing Mac OS X's accessibility APIs, that Safari 4.0.2 has fixed that bug - which our testing, limited though it may be, has confirmed.