Google is likely to announce a new 3D view of the Moon in honor of the 40th anniversary of the Apollo 11 lunar landing on July 20.
The Mountain View Chocolate Factory announced plans to hold a press conference that day in Washington, DC to discuss "a very special announcement about the newest addition to Google Earth."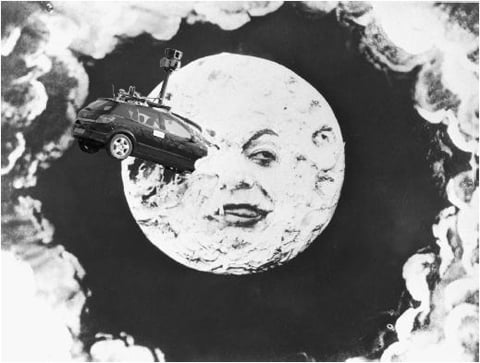 Moon walker #2 Buzz Aldrin will speak at the event as well as Man on the Moon author Andrew Chaikin. Short of Google releasing hand-to-hand combat tips courtesy of Aldrin, it's pretty clear what the company has brewing.
NASA recently launched the Lunar Reconnaissance Orbiter (LRO), which has been happily beaming home compelling new snaps of luna firma. The orbiting probe will also be able to provide a 3D map of the moon's surface which could be used to complement the ageing overhead shots that Google Moon currently offers.
The company obviously has a very friendly relationship with the US space agency, so Google getting hold of the data isn't exactly a stretch. NASA even let's Google cool their jets at the Ames Research Center just a few miles from Google's headquarters — and by the way, Ames just happens to manage LRO's twin mission, the Lunar Crater Observation and Sensing Satellite (LCROSS).
Furthermore, Google already provides a 3D view of Mars through Google Earth 5.0. The planets, as they say, are aligned for a three dimensional peek at our local orbiting harsh mistress. ®
Similar topics