Retrieve sent messages and sound like Oprah
Another iPhone enhancement would be the ability to play back voicemail messages that you've recorded onto others' voicemail services. According to the filing, many of us simply forget what we said when we've left a message, and gaining the ability to replay those message would be a boon.
We agree. As the filing notes, "Individuals contacted by someone responding to one of their messages may be faced with the embarrassing situation in which the individual is not prepared to discuss the subject brought to the attention of that same individual." You've been there, right?
And so this filing provides a way for your iPhone to record and keep a copy of messages you leave for others. Alternatively, that copy could be recorded and played back to you by your wireless service provider, but the effect would be the same: You could be reminded about what you said in a message after you've left it.
But one other of Thursday's filings puts a little twist into those messages. It describes a technology that would allow you to modify an audio signal in such a way as to make your voice sound like someone else's.
Specifically, the filing says "The system may change the original frequency content of an audio data file to a second frequency content so that a recorded audio track will sound as if a different person had recorded it when it is played back."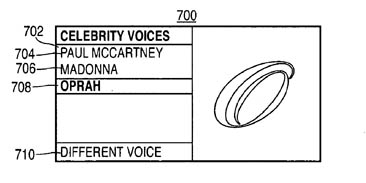 I'll leave this message as Oprah - what could go wrong?
This sounds a wee bit sketchy to us. Apple's filing, of course, uses a benign example: "A mother ... might wish to change the narrator's voice in a pre-recorded, commercially available audiobook to her own voice, so that her child can listen to the audiobook as narrated in the mother's voice in her absence." It seems, however, that being able to change Mahmoud Ahmadinejad's voice to that of, say, Benjamin Netanyahu is just asking for trouble.
Finally, Apple wants you to be able to buy your next iPhone or iPod preloaded with content you pick in advance.
"Unfortunately," the filing reads, "consumers cannot currently purchase media players ... that already include media items of interest to the user. Instead, a consumer may generally have to obtain media items of interest and then subsequently transfer them to a media device. This process can be time-consuming and inefficient."
Odds are that Apple is not all that worried about whether you and I have to inefficiently waste our precious time loading up our new iPhones and iPods with digital media. It's more likely that popping another $10 for The Best of Sam the Sham and the Pharaohs (iTunes link) when you're already forking out $399 for a 32GB iPod touch might be a hard-to-resist temptation - and one that will juice Apple's cash flow.
Ah, those creative Cupertinians. Always thinking. ®
Sponsored: How to simplify data protection on Amazon Web Services