Orange claims to be the first European operator to introduce mini SIM cards, though it's actually talking about the thing that holds the SIM rather than the SIM itself.
Touting the development as an environmental step Orange points out that 11,600 tonnes of SIM are shipped each year, 90 per cent of which is unused plastic that's thrown away by the recipient. Orange's new SIM won't reduce that hugely, they are just planning to put two SIMs into each card rather than one, but any reduction in packaging is to be applauded.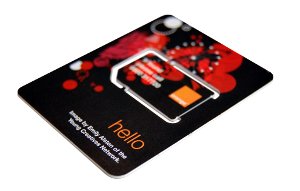 Less packaging than the average SIM, same size though
Of course, it's not just habit that put SIM cards into credit-card-sized plastic holders - some of the early GSM handsets needed the whole card to hold the SIM in place. The SIM standard was derived from ISO7816, which defines full-sized cards, though it's been a while since we've seen a handset equipped to take anything larger than a standard (GSM11.11) SIM.
There has been talk of reducing the size of SIMs further, ideally by cutting away the wasted two thirds of surface area that surrounds even a normal SIM (the electronics are glued to the back of the contacts, the surrounding plastic is just there to give fingers somewhere to grip). But since phones started getting bigger screens those calls have largely diminished.
Which is all to the good - the SIM is a terrific standard and shouldn't be mucked about with, so we're glad to hear that Orange's mini SIM is nothing of the sort. ®