Asus F70SL
The world's first 17.3in notebook?
Review In recent years, Asus has become a key player in the netbook revolution. Yet with the F70SL, the company is looking to appeal to a totally different audience. Touted as the world's first notebook with a 17.3in display, this bulky, 4kg desktop replacement, offers a 16:9 aspect ratio screen at a resolution of 1600 x 900.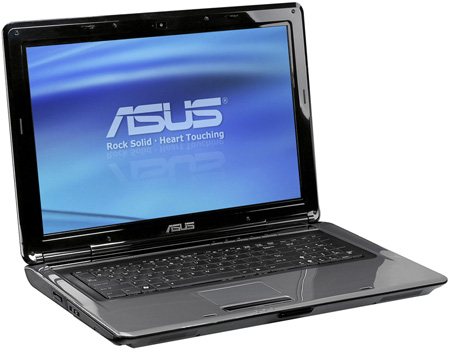 Asus' F70SL: bulky, but easy on the eye
With a robust chassis, the F70SL feels like a notebook that could withstand a knock or two, and there's very little creaking to be heard when giving it a rough ride. The lid is decorated with an attractive horizontal line pattern - a theme that's continued on the inside of the notebook.
Measuring up at 426 x 302 x 44mm the F70SL is quite a size, so it's good to see Asus has found room for four USB2 ports – two at the rear, two on the right side – along with Gigabit Ethernet, HDMI, a memory card reader and an ExpressCard 54 slot. You also get a switch to turn Wi-Fi and Bluetooth off, along with a 1.3Mp camera embedded into the screen's bezel.
Supplied is a bog-standard DVD writer for UK customers, although some territories offer a Blu-ray drive, at additional cost. The keyboard is of a good size and features slightly concave keys. Each key has a good amount of travel, but there is some flexing when heavy hands are thrown at it.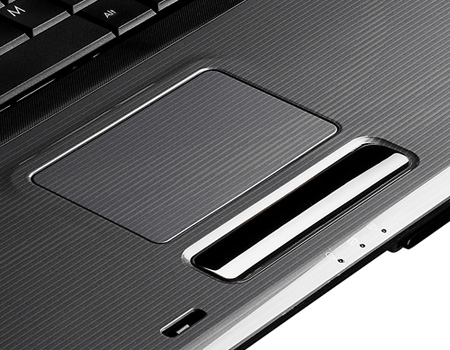 Good trackpad, bad trackpad buttons
A numeric keypad is always useful and the F70SL just manages to squeeze one in, however the half-width keys make it tricky to use at speed. While the trackpad responds well, we weren't hugely impressed by the left and right buttons beneath it. These sit under a single chrome-effect panel that looks good but requires too heavy a push for our liking.