This article is more than 1 year old
Samsung N310 netbook
Style over substance
Review Samsung has never been a supplier of cheap and cheerful netbooks, and the consumer-oriented N310, which expands the range beyond the more seriously styled NC10, NC20 and N120, still comes in with a suggested price of a pound under £400. For that, you'd expect something very special.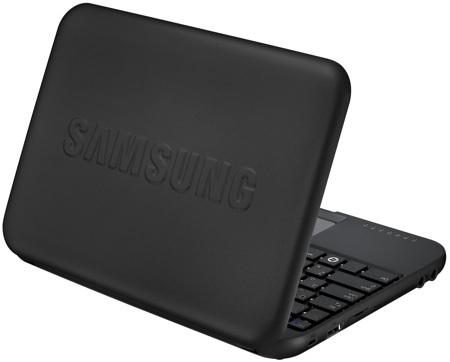 The N310: you'd never guess is was a Samsung would you...
You're left in little doubt about the maker of this machine, as Samsung is embossed in the lid in inch-high letters. Combine the logo with the large-radius curved corners, and flush-mounted screen and touchpad, and the N310 has a certain jauntiness to its design. Available with a black, sky blue or orangey red case, to reflect how you feel about working on the move, the N310 is, however, bulky for a netbook.
The closed case is 28mm thick, but the machine weighs in at a par-for-the-course 1.23kg. This is 70g lighter than, say, MSI's Wind U115, but 130g heavier than the Eee PC 1008HA, which is about the same price on the open market. Its footprint dimensions are 262 x 185mm, making it very convenient to use, for example, on the flip-down trays on the back of Inter-City train seats.
The N310 has a 10.1in LED-backlit LCD panel with a native resolution of the customary 1024 x 600 pixels. It's bright and sharp, and because it's mounted flush with the bezel, easy to wipe clean. There's a 1.3Mp camera set just above the screen, which gives a good enough picture for Skype video.
Sound comes from a Realtek chipset and is played back through a pair of 1.5W speakers which pump up a surprisingly high volume, for a netbook. They are adequate for soundtracks on videos, though you'd want to switch to earbuds or headphones to enjoy music.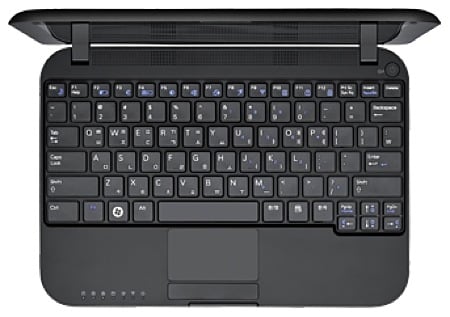 The 'chiclet' keyboard isn't half bad
The keyboard is vaguely reminiscent of the one on the Sinclair Spectrum, but fortunately only visually. The keys are over 90 per cent full-size and have none of the dead-flesh action of Sir Clive's thoroughbred. In fact, they feel more positive than those on many recent netbooks and have good gutters around the keys, which helps if you touch-type. The layout is decent, too, with the cursor keys conveniently offset forwards to accommodate small Page Up and Page Down keys.