This article is more than 1 year old
Datawind breezes into netbooks
From PocketSurfer to UbiSurfer
Datawind, the company behind the PocketSurfer web browsing palmtop - reviewed here - has upped its game with the launch of its first netbook.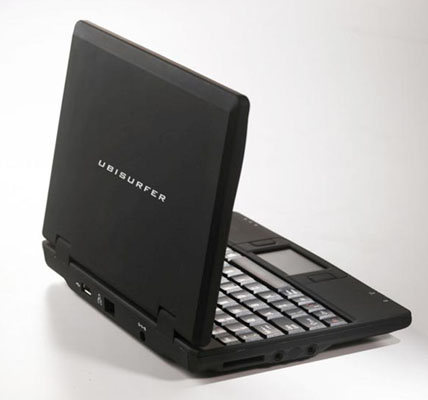 Datawind's UbiSurfer netbook: just a larger PocketSurfer?
UbiSurfer's main sales pitch isn't its 7in, 800 x 480 display or 1GB SSD, but the 30 hours of free airtime that Datawind chucks in with every purchase.
The machine has an embedded Vodafone Sim and GPRS modem, Datawind said. But web connections over Wi-Fi 802.11b/g and Ethernet connections are also supported on the UbiSurfer.
After your free 12 months are up, you'll probably want to switch to Datawind's unlimited web package – priced at £6 ($11/€8) per month – because the firm's estimated that 12 months' worth of 30 days per month web will cost you £30 in year two.
UbiSurfer uses Datawind's "patented acceleration technology" to ensure webpages load in between five and seven seconds – faster than other netbooks on mobile networks, Datawind claimed.
Under the machine's "piano black" or "rubberised matte finish" bodywork – the latter of which apparently resists fingerprints and scratches – is an Arm processor of unspecified speed and said 1GB SSD. You'll also have access to 25GB of online storage, Datawind stressed.
The netbook's other features include an SD card slot and three USB ports.
UbiSurfer runs on Linux and comes supplied with a selection of applications, including a web browser, calendar, media player, and a viewer for Office docs and PDF files.
Datawind's UbiSurfer is available now for £160 ($260/€187). ®