This article is more than 1 year old
Sony Cybershot DSC-HX1
Super zoom camera with Full HD video, sort of
Review These days you're rather spoilt for choice when it comes to super zoom compacts, and so it's simply not enough to offer a camera sporting an extra-long zoom; you've got to make it stand out in the crowd. Sony reckons the DSC-HX1 offers something special beyond a 20x optical zoom, to tempt the super zoom customer, including a novel panoramic shooting system and a super-fast continuous shooting mode.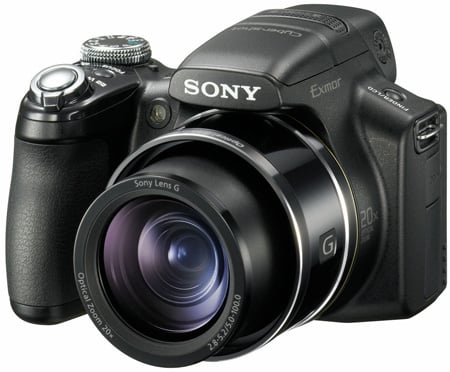 Sony's Cybershot DSC-HX1
The DSC-HX1 has 5-100mm f/2.8-5.2 Sony G lens, equivalent to a 28-560mm zoom on a 35mm camera. Its closest rival is Canon's PowerShot SX1 IS, another model with a 5-100mm optical zoom, although at £589, the Canon's suggested retail price is a fair bit more than the DSC-HX1's £429. That said, the PowerShot SX1 IS does offer a few extras lacking on the Sony, such as RAW recording and 1920 x 1080 HD movies at 30fps – the DSC-HX1 also offers HD recording but with a lower specification.
The product shots outline the basic control layouts, so we'll just focus on some features. You get a 0.2in electronic viewfinder composed of 201,000 dots and a 3-inch LCD screen with 230,000 dots. The LCD screen is on a hinge and can be swivelled up or down by 90 degrees. It's not as flexible as some articulated LCD screens we've seen, but it's still a nice feature to have.
The EVF is small and not especially sharp, but in our view, every super zoom should offer some form of viewfinder, because it makes it much easier to support the camera with your hands when using the extreme end of the telephoto setting. Note the lack of a hot shoe; in its place is a stereo microphone for video recording.
Sony alas, insists on adding some proprietary features to the camera, including the use of its Memory Stick Duo format. The DSC-HX1 is compatible with Memory Stick Duo Standard and Pro versions and can even use Duo Pro-HG cards. The latter are up to three times faster than ordinary Pro cards thanks to an eight-bit parallel interface and other features, but the DSC-HX1 only supports a four-bit parallel interface, so you're wasting your money buying Duo Pro-HG cards to use with it.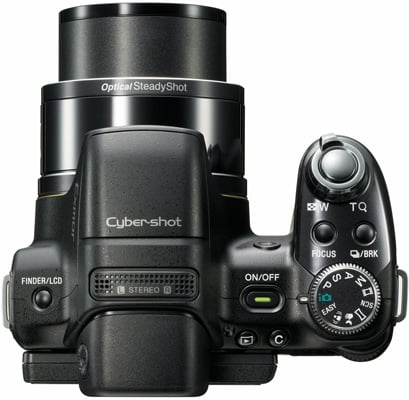 No hotshoe, but a stereo microphone instead
The other problem is that Sony uses a multi-function socket for USB, AV Out and HDMI connections. The DSC-HX1 comes with a special cable with connections for the first two, but there is no HDMI cable. Instead, Sony provides an HDMI dongle, which plugs into an HDMI cable and the multifunction socket. Not only does the set-up look unwieldy but, if you lose the adapter or the special cable, you're stuffed and will have to shell out for another cable which is £33 a pop on Sony's website.