iTunes App Store: 1.5bn served
'Hard for others to catch up,' says Jobs
---
Apple's iTunes App Store has reached another mind-numbing milestone: 1.5 billion apps downloaded in its first year of operation.
Just last Friday, the App Store celebrated its first birthday. Today, Apple announced that its online repository of both smart and stupid apps was leaving its competitors in the dust.
"With 1.5 billion apps downloaded, it is going to be very hard for others to catch up," said Steve Jobs - who, in press-release form at least, appears to be back in the saddle again.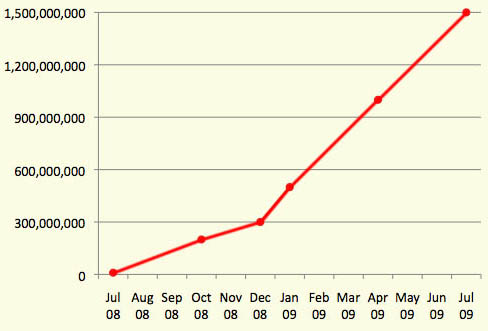 One download for every four people on the planet
As we reported last week, the US arm of the App Store now contains well over 56,000 apps. According to Apple, the total number of apps in the Store's 77-country reach now exceeds 65,000.
As is its custom, Apple declined to state what percentage of the downloaded apps is of the free variety, and what percentage has garnered the developers any cash.
That said, mobile-app tracker Distimo, which follows not only the App Store but also similar offerings from Palm, RIM, and others, reports that the average price of an App Store app, while still "very unstable," has kicked up recently due to the popularity of turn-by-turn navigation apps.
Apple also announced that it has shipped over 40 million iPhones and iPod touches - the two devices that can take advantage of all the App Store has to offer, from retro spaceflight games to reproductive-biology flash cards (App Store links).
We'll do the math for you: that's 38 apps per downloader. ®