Hitachi releases mini Nas adaptor for USB HDDs
And a couple of drives to go with it
---
Hitachi Global Storage's SimpleTech subsidiary has rolled out a pair of portable USB hard drives - and a wee adaptor that turns them into basic Nas boxes.
Hitachi claims the SimpleTough drive is "one of the world's most rugged drives for protecting data in harsh environments", taking in its stride "more falls, knocks and spills than any average external drive on the market".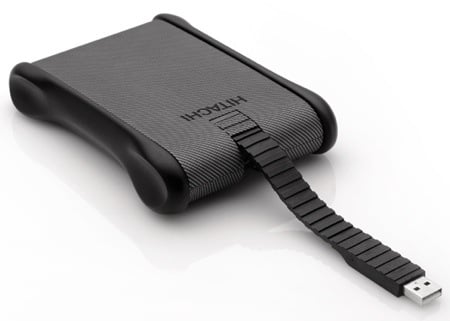 Hitachi's SimpleTough:
Maybe, but we reckon the integrated foldaway USB cable is more useful. The Tough comes in 250GB, 320GB and 500GB capacities.
The SimpleDrive Mini comes in the same capacities, but you're stuck with, respectively, a "red wine", "blue dusk" and "carbon fibre" colour casing depending on which capacity you choose.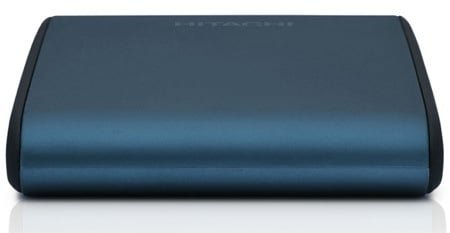 SimpleDrive Mini: the colour's "blue dusk", apparently
Buy two and you can plug both into Hitachi's SimpleNet network adaptor. Unlike the Addonics Nas Adaptor we reviewed earlier this year, the SimpleNet has two USB 2.0 host ports. But it too has a single 10/100Mb/s Ethernet port.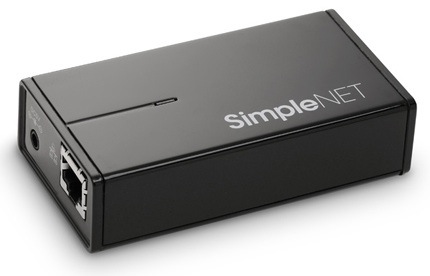 SimpleNet: convert regular external HDDs into Nas boxes
It'll support FAT32, NTFS, HFS+ and EXT3 file systems to satisfy Windows, Mac and Linux lovers, and on-board servers dole out iTunes, FTP, DLNA shares. An SSH server provides command-line access.
The SimpleNet costs $79 (£49/€57). The 250GB, 320GB and 500GB SimpleDrive Minis cost $90, $110 and $140 (£55-86/€64-100), respectively, while the same capacities of SimpleTough come in at $100, $120 and $150 (£62-92/€72-107). ®