Leccy Tech Toyota has revealed that a hybrid version of its Auris hatchback will be built at its UK plant in Burnaston, Derbyshire from 2012.
According to a report in the Japanese industry daily, Nikkan Jidosha Shimbun, the Auris is due for a major facelift in 2012 which will coincide with the release of the hybrid model.
The car will use the same basic hybrid drive train as the latest Toyota Prius but is expected to sell for less.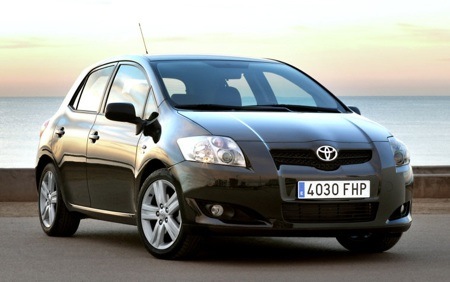 Toyota's Auris: leccy version to be made assembled in Britain
Prices for the Prius currently start at £18,390 ($29,900/€21,400), nearly £2500 more than Honda's Insight hybrid, so the clever money is on the Auris hybrid starting at around £15,000 ($24,400/€17,400).
By 2012, the Prius will be available as a both a petrol-electric and plug-in hybrid – the latter allowing drivers to charge a lithium-ion rather than nickel-metal hydride battery pack directly from the mains for extended leccy-only travel. But at the moment, Toyota is keeping tight-lipped about the possibility of a plug-in Auris.
While the Auris and Avensis models currently built at Burnaston source their drive trains from Toyota's other UK factory, on Deeside, the engines, battery assemblies, motors and electronics for the Auris hybrid will be imported directly from Japan.
As the Auris will be the first Toyota hybrid to be assembled in Europe, we can doubtless expect to see government ministers taking credit for bringing a major e-car project to Blighty in line with Business Secretary Lord Mandelson's efforts to encourage Nissan to establish e-car production in the UK.
Of course, all European Auris/Aurises/Auri are built in Burnaston so assembling the hybrid version there from a parts kit imported from Japan was hardly a difficult decision on Toyota's part. ®