This article is more than 1 year old
Endeavour heads for ISS on sixth try
'Persistence pays off' for STS-127
Space shuttle Endeavour has finally blasted off on its mission to the International Space Station.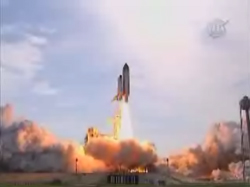 Image courtesy NASA TV
The belated liftoff of mission STS-127 from Kennedy Space Center is NASA's sixth attempt to get Endeavour off the ground. Two cancellations in June were due to a leak in the shuttle's hydrogen gas venting system, and three other launches were snuffed because of troublesome Floridian weather.
Mother Nature showed mercy for the sake of science today, allowing Endeavour's crew of seven to get some space-faring work done at the ISS.
"Persistence pays off, good luck and godspeed," NASA launch control radioed in before liftoff.
At two hours to launch, weather around the area was still a cause for concern for the space agency, but conditions cleared in time for the shuttle's preferred launch time of 6:03 pm EDT (10:03 GMT).
The time was chosen because it allows the shuttle to burn less fuel during its climb into space to catch the station on time. Endeavour is scheduled to dock with the orbiting outpost Friday afternoon EDT.
STS-127's five postponements is just short of NASA's record for scrubbed launches. STS-61C in 1986 and STS-73 in 1995 continue to share that honor with six failed attempts apiece under their belts.
Aboard Endeavour is the final piece of Japan's $1bn space laboratory Kibo, which will serve as a "front porch" for the ISS module to let astronauts expose experiments to space.
When the crew arrives at the ISS, they will be the largest group ever together in orbit with 13 people crammed in the 73m-long (240ft) station. ®