This article is more than 1 year old
Microsoft store crumples as Win7 promo kicks off
Partner opportunity or what?
Microsoft kicked off its massive pre-order promo for Windows 7 today, and promptly saw its European online store decide it was time for a little lie down.
The software giant styled the promo as a "perfect way to [say] thank you" to beta testers who'd given it feedback on the (potentially industry saving) operating system.
It is giving them and anyone else who's interested the opportunity to "pre-order Windows 7 Home Premium E for £49.99** or Windows 7 Professional E for £99.99**". That's roughly two thirds off for the home version, and over 50 per cent off for the Pro version.
The offer is open till August 9, but buyers will have to wait till October 22 to actually get their mitts on the software.
Customers can buy through its partners - including PC World, Amazon, Play.com and others - as well as the Microsoft Store.
So let's hope those others are doing better than Microsoft itself. By mid morning, European customers were getting this: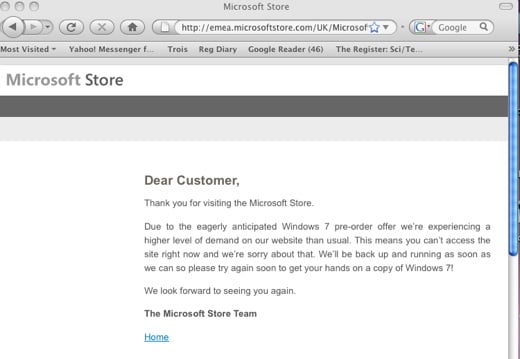 Things hadn't improved much by midday.
Of course, this could be Microsoft's way of saying thank you to its partners who suffered greatly when Windows Vista bombed. With the Microsoft store out of action, buyers have no choice but to go a third party, giving them a revenue boost to make up for all that redundant stock they were lumbered with back in 2007.
PC World said it will throw in a free PC healthcheck for anyone ordering the software worth £29.99. It was also at pains to point out that Windows 7 was "an incremental release".
For its part, Microsoft is strongly advising buyers to run its Upgrade advisor tool to check their PCs can run the software. Hopefully, this attitude from Microsoft and its partners should avoid the lingering unpleasantness that followed some customers' realisation that their 'Vista Capable' stickered PCs... weren't. ®