Mandriva's Linux-on-a-stick refreshed with Spring '09 release
I'm happy to see you, but that is an OS in my pocket
---
Mandriva has refreshed its Linux-on-a-stick distribution to put the pocket-sized operating system in line with its desktop Mandriva Linux 2009 Spring release.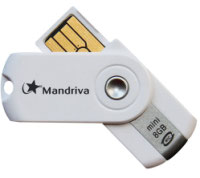 Mandriva's 8GB USB dongle comes with a complete, bootable version of Mandriva Linux, with 6GB of the space free for saved software, documents, and system preferences.
The Mandriva Flash 2009 Spring edition also adds an option of installing the environment onto a home workstation if you're not going anywhere - or maybe just have really enormous pockets.
Updates from the Flash 2008 Spring OS include a look-and-feel derived from regular Mandriva Linux 2009 Spring release. Ezboot has also been upgraded for better booting and Codeina now allows users to manage the codecs.
The dongle's pre-installed third-party extras include Mozilla Firefox, Mozilla Thunderbird, Skype, and the Open Office suite. Additional software and updates are installed right on the key, like a regular Linux installation.
Mandriva Flash 2009 Spring is available now for €49.90 ($59.90, £42.90). The USB unit comes with one month of web support through Mandriva Expert, and support for English, French, German, Italian, Spanish, Finnish, Dutch, Portuguese, and Swedish. ®