Microsoft 'deal factories' fast-track customers to block rivals
The Wal-martification of Redmond
---
WPC Exclusive Microsoft is rolling out "deal factories" run by executives with the power and authority to cut quick deals with customers, so they don't go to rivals.
A factory has been created in the UK - and one is understood to exist in the US - with Microsoft's country subsidiaries believed to be rolling out their own factories this year and next.
Deal factories have been created to fast-track the process of cutting deals with customers that want more than just the standard level of contract offer that a field sales person is authorized to make.
That might mean deep discounts on volume purchases of products like Windows or postponing payment for hundreds of copies of Windows until another quarter.
Traditionally, such deals have been passed to the Redmond HQ for senior sign-off. However, this runs the risk of extending negotiations with Microsoft losing business - and all-important market share - to faster moving competitors.
Microsoft was unable to comment specifically on deal factories.
However, a Microsoft PowerPoint from February - by UK managing director Gordon Frazer and the general manager for Microsoft UK's small and medium solutions and partner group Scott Dodds - names the UK deal factory as a resource channel partners can call on. Microsoft also promised to respond to emails sent to a deal hotline within 24 hours.
A simple instruction accompanies the offer: "Don't lose" in competitive situations.
Microsoft does not want to lose because it is now measuring itself in two ways: by staying ahead of the market and not losing share to the competition, according to the PowerPoint. The joint presentation is from a February 2009 Microsoft channel partner summit.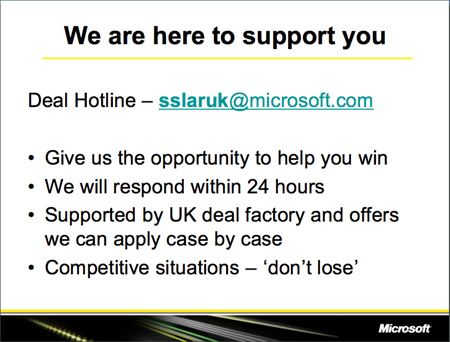 Don't lose it: UK deal factory named by Frazer and Dobbs
Chief operating officer Kevin Turner hammered home that message at Microsoft's Worldwide Partner Conference (WPC) in New Orleans, Louisiana.
"The importance of growing our market share - this is our battle cry, our rally cry," Turner told partners. "I have truly deduced the winners and losers in this environment will be determined by the market share won or lost. Now it boils down to growing market share.
"We gotta have the fighting spirit to compete to win in the marketplace," Turner said.
It was a performance that strongly suggests Turner is the deal factory architect, given that part of his job involves leading Microsoft's worldwide sales and marketing efforts.
Turner is Microsoft's Mr Measurements and Metrics. He's been rolling out a system to measure the performance of staff and departments based on traffic-light color coding since he arrived at Microsoft in 2005.
In New Orleans, he said Microsoft would measure itself in the database market in fiscal 2010 by its market share. Microsoft has been a strong number three behind IBM and leader Oracle thanks in large part to the fact SQL Server doesn't run on Unix or Linux.
He also has a background of using discounts to beat the competition. Turner is a former chief executive of Sam's Club, part of Wal-Mart, which is known for its low prices. Turner was named CEO of the struggling Sam's Club in October 2002. A year later, price competition from a revived Sam's Club was cited as helping hurt competitor CostCo.
As any student of pricing will tell you, though, low price alone is not a strategy to win customers. You have to offer something extra. In the current economic climate - and based on Turner's WPC comments and those of other Microsoft executives speaking at the show - that "extra" is "value." And value will depend on what the customer wants.
A Microsoft spokeswoman told The Reg: "Microsoft regularly offers limited-time promotions for customers to enhance their Microsoft technology solution and save money over standard list pricing."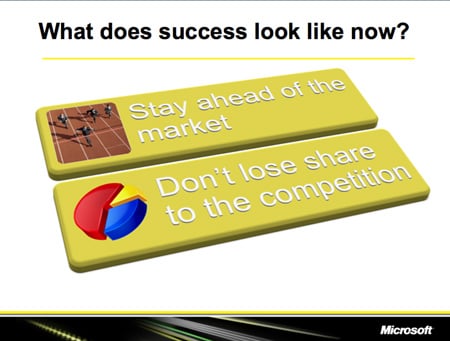 Measuring up: how Microsoft judges success according to Frazer and Dodds
Based on his WPC performance, however, Turner clearly sees the recession as an opportunity to sell more Microsoft software. Fraser and Dodd's PowerPoint identified IT growth opportunities in software as a service, cloud computing, open source, virtualization, web conferencing, outsourcing, and green IT.
Specifically, Dodds identified small and mid-sized companies - those with fewer than 250 PCs - as the single biggest growth opportunity for Microsoft.
SMBs are being targeted, it is believed, because enterprise clients are either canceling or are not renewing volume-based Enterprise Agreements (EAs).
That's a problem because these represent millions of dollars in revenue and guarantee Microsoft a predictable level of revenue during the three-year period of an EA agreement.
It's believed EAs are being canceled to help save money as IT budgets get cut, even though they can potentially be used to save money in the long term.
Directions on Microsoft analyst Paul De Groot in a May 2009 report about heavy discounting in Microsoft's enterprise licenses - seen by The Reg - said it's an IT buyers market and customers could find Microsoft more willing to negotiate during the downturn than before.
"Companies that are well prepared to negotiate - particularly those who have good data on their current license use and a convincing case that their own financial condition makes continuing or starting an EA difficult - may find that Microsoft is unusually eager to work with the company's budget to come up with a solution," De Groot said. ®