This article is more than 1 year old
Mysterious organic blobs found in Alaskan waters
Everyone out of the pool
Enormous blobs of thick, black, gooey biological material have been spotted drifting in the waters off Alaska's northern coast, and nobody is quite sure what they are.
Alaskan hunters first noticed the ooze early last week drifting miles offshore in the frigid arctic waters of the Chuckchi Sea, according to Anchorage Daily News. Local officials and the US Coast Guard flew in to investigate, and residents say they can't remember seeing anything like it before.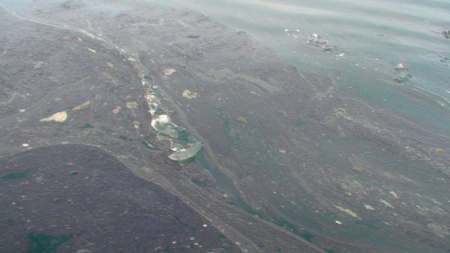 Image courtesy North Slope Borough
The mystery goo is blackish-brown, has hairy strands in it, and gives off an unusual odor, ADN reports. Officials from Alaska's North Slope Borough say they took a helicopter team to examine the goop from the air and saw a strand stretching nearly 15 miles long.
"It's certainly biological," US Coast Guard representative Terry Hasenauer told the paper. "It's definitely not an oil product of any kind. It has no characteristic of an oil, or a hazardous substance, for that matter.
"It's definitely, by the smell and the makeup of it, it's some sort of naturally occurring organic or otherwise marine organism."
The Coast Guard's samples are being analyzed in Anchorage and results should be back next week, Hasenauer said. In the meantime, they're sticking to the story that it's probably some sort of algae and disappointingly not a creature from outer space bent on eating a small town in Pennsylvania.
"It's textbook for us to consider algae because of all the false reports of oil spills we've had in the past. It's one of the things that typically comes up when a report turns out not to be an oil spill after all," Hasenauer told ADN - but added, "there's all types of natural phenomena that it could be."
In the meantime, the substance appears to be staying away from shore for the most part and keeping its body count at a minimum. Gordon Brower with the North Slope Borough's Planning and Community Services Department told the paper he saw some jellyfish tangled up in the goo and someone else retrieved bones and feathers from a dead goose.
"If it was something we'd seen before, we'd be able to say something about it," Brower said to the paper. "But we haven't... which prompted concerns from the local hunters and whaling captains." ®