The US Senate yesterday confirmed former astronaut Charles Frank Bolden as the new NASA head, with Lori Beth Garver occupying the deputy administrator's office.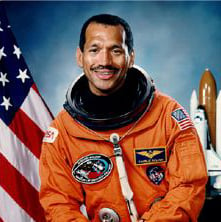 Bolden, 62, is a former Marine Corp pilot who flew over 100 combat mission in Vietnam and eventually rose to the rank of major general before retiring from the service in 2003.
He was selected as an astronaut candidate in 1980 and went on to command two of the four space shuttle flights he enjoyed between 1986 and 1994 (STS-61C, STS-31, STS-45, and STS-60), which included the 1990 deployment of the Hubble Space Telescope.
Bolden said of his new post: "It is an honor to have been nominated by President Obama and confirmed by the Senate to lead this great NASA team. Today, we have to choose. Either we can invest in building on our hard-earned world technological leadership or we can abandon this commitment, ceding it to other nations who are working diligently to push the frontiers of space."
He continued: "If we choose to lead, we must build on our investment in the International Space Station, accelerate development of our next generation launch systems to enable expansion of human exploration, enhance NASA's capability to study Earth's environment, lead space science to new achievements, continue cutting-edge aeronautics research, support the innovation of American entrepreneurs, and inspire a rising generation of boys and girls to seek careers in science, technology, engineering and math."
Garver, meanwhile, starts her second stint at NASA, having previously served five years in administrative capacities at the agency.
The 48-year-old enthused: "I am very excited about the opportunity to serve under Charlie Bolden's leadership. My previous five years at NASA exposed me to the incredible talent of the workforce there. The unbelievable achievements of this team over its 50-year history are unmatched. I look forward to working with Charlie and the NASA team to make our agency work as effectively as it can for the American people."
NASA has full biogs for Bolden and Garver here and here, respectively. ®