Synology Disk Station 409Slim
Laptop storage drives nano Nas box
---
Review At first glance, the Synology Disk Station 409 Slim seems a rather strange concept. Why use 2.5in disks in a four bay Nas enclosure? Surely, you'd want to cram as much storage space as possible into a NAS? Moreover, 2.5in drives are currently limited to around one quarter of the capacity of their 3.5in counterparts, hence, limiting the total internal capacity of the device to 2TB.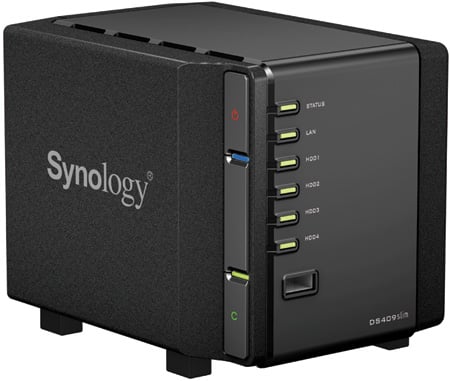 Synology's DS406Slim four bay Nas
Also, smaller drives are also considerably more expensive. If you go for 500GB disks, you'll pay around double for a 2.5in drive. Yet, by using 2.5in drives, the DS409 Slim is able to take advantage of many of the storage technology advances utilised by modern laptops.
At only 120mm x 105 mm x 142 mm and weighing only 660g, it's around half the size of a Disk Station 209 which uses 3.5in disks – and that's only a twin-bay model. While a four-bay NAS may prove a little large for many home users, you can put the DS409 Slim just about anywhere.
Low power consumption, critical for laptop users, is also of advantage to those of us wishing to run our NAS 24/7. Synology's own figures rate the power consumption of the DS409 Slim at around 19W during disk access when using two drives. We recorded an even lower figure of 15.5W when writing to two disks in a RAID 0 configuration.
The smaller drives also make less noise. With reduced power consumption comes reduced heat output and therefore less external cooling is required - which in turn reduces fan noise. While the DS409 Slim isn't silent, it's certainly rather quiet at around 24dB(A).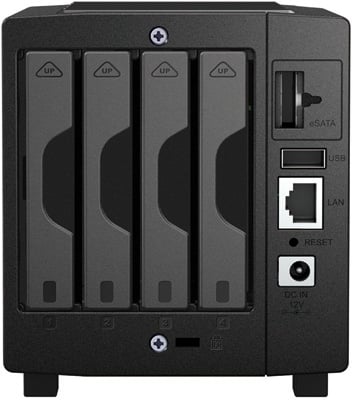 Compact kudos, however, limits interfacing options
The smart fan system ensures that the fan remains off until cooling is required; making this an excellent choice for those you like to stream their music without the irritation of whirring fans. The device itself is also comes with its own stand and is fitted with thick rubber feet which help to eliminate vibrational noise.