This article is more than 1 year old
Nikon D5000 digital SLR
Satisfying stills with HD thrown in
Review You've got to hand it to those marketing bods who are constantly on the lookout for a gap in the market. Not so long ago, digital SLRs were neatly divided into high-end/entry-level models, but now, consumer DSLRs come in a variety of specifications aimed at specific groups of users. Nikon's D5000 is a good example. It's described as an "upper entry level" DSLR, which means that it offers more than a budget DSLR, but just a little less than a mid-range model. So does the D5000 fill a gap or fall between two stools?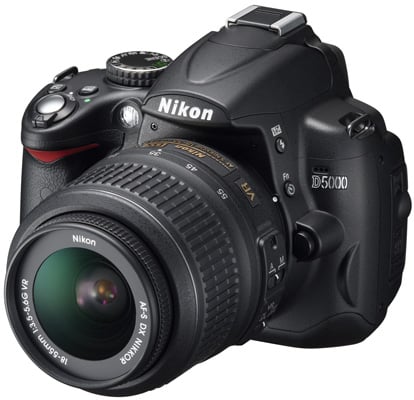 Nikon's D5000 DSLR
Despite its model number, the D5000 sits firmly between Nikon's D60 and D90 models, and Nikon clearly hopes that potential D60 buyers might be tempted to trade up to the D5000. However, the company also clearly desires that potential D90 purchasers will not be persuaded to trade down to the D5000 – hence, the carefully selected features and specifications.
The D5000 offers HD recording and Liveview operation and it uses the same 12.3Mp (effective) 23.6 x 15.8mm DX Format CMOS sensor as the D90, as well as the same 11-point AF system. Naturally, the D90 has a few cards up its sleeves, including a Pentaprism-based viewfinder, a 3in LCD screen composed of 920,000 dots, slighter faster continuous shooting speed (4.5fps compared with 4fps) and a built-in autofocus motor.
By contrast, the D5000 uses a pentamirror system, a smaller 2.7in screen with just 230,000 dots and utilises a lens-based AF system. However, the D5000 does have something the D90 lacks – an articulating LCD screen that swivels up to 270 degrees – more on this later.
The D5000 is available as a body only or kit option. We reviewed the latter that came with an 18-55mm f/3.5-f.5.6 AF-S NIKKOR lens but, of course, you can use a variety of Nikon lenses with this camera. However, the D5000 only supports all functions on AF-S and AF-I-type lenses. For the rest, there are varying degrees of compatibility but, suffice to say, if your lens doesn't have a built-in AF motor, you'll be limited to manual focusing.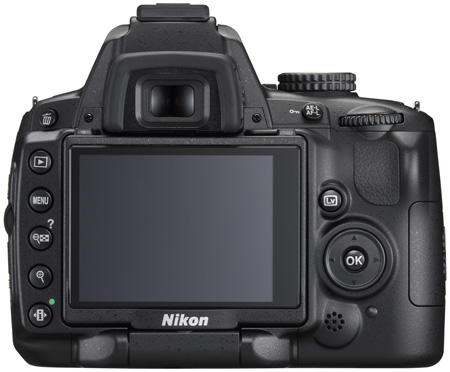 LCD quality could have been better
The general layout is quite familiar, as you can see from the product photos. The D5000 uses SD/SDHC cards, a lithium-ion battery, and has mini USB, mini HDMI and accessory ports – the latter can be used with an optional GPS unit for geo-tagging shots.