Nikon D5000 digital SLR
Satisfying stills with HD thrown in
The menu system, however, is rather large and unwieldy. There are six menus to navigate for playback, shooting, custom settings, set-up, retouch and recent settings. The shooting menu alone has 14 parameters that can be adjusted, which are spread over two screens, so there's a fair bit of scrolling involved. To be fair, many of the major settings, such as ISO, white balance and image size, can be quickly adjusted using the info and function buttons. Still, we have certainly seen friendlier menu systems.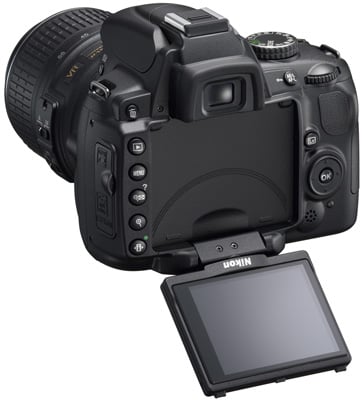 Depending on its position, the screen could be a problem for tripod use
The articulating LCD screen combined with Live View that shows the real time image on the LCD rather than just the viewfinder, means the D5000 is great for shooting at various angles, and it's very easy to take a self-portrait using the system. However, Nikon has opted to put the screen's hinge at the bottom of the camera body, so you're a bit stuffed if you try moving the screen when the camera is tripod mounted.
Shame also, that the screen resolution is relatively coarse. The D5000 has quite a noisy shutter and a Quiet-Shutter release system can be used to reduce the noise. It works by slowing the movement of the mirror, although you still get a fairly loud clicking sound in this mode.
In terms of performance, there's a lot to like about the D5000. The AF system is swift and responsive, albeit somewhat sluggish when using Live View. Colour, contrast, resolution and exposure were impressive and you'll certainly get good results with this camera. RAW images appear a tad sharper than JPEGs too.
Noise levels are low, even at high ISO speeds, although we're not sure why Nikon has bothered with the ISO 6400 equivalent option, as noise levels are high, even when using the camera's High ISO noise reduction system. Moreover, some photographers might be put off by the fact that the D5000 doesn't offer a really low ISO speed, such as 64 or 100, but Nikon clearly believes that there's little to be gained by going any lower with a camera of this quality. We think they are right, but you might think otherwise.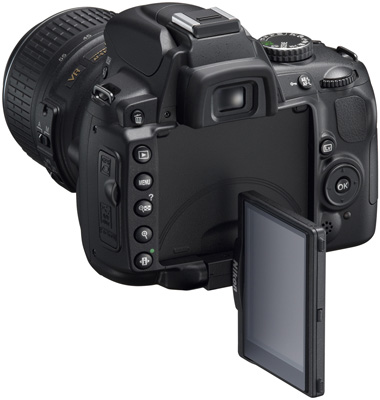 Autofocus was a tad sluggish during Live View shooting
The continuous shooting mode shoots up to 100 JPEG frames in fine resolution at 4f/s, although there is a noticeable slowing down around the 40-frame mark as the buffer begins to fill up. Low light shooting is good, although when shooting outdoors at dusk, we were perplexed to find that the Night Landscape mode refused to operate and the D5000 displayed a message telling us it was because the light level was too low!