You really won't want to lose Kingston's Data Traveller 300 256GB thumb drive, the highest-capacity thumb drive available. There could be a near-universe of files, pictures and music inside and yet it can be as easily mislaid as any 2-gig thumb drive.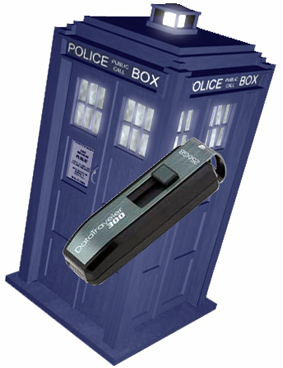 This tiny Tardis holds as much data as some hard drives and can be used as an external notebook drive if you want, as well as a handy little portable file cabinet. It comes with Password Traveller software which enables the setting up of a password-protected Privacy Zone in the device, and you don't need administrator rights to access the Privacy Zone.
It also comes with Windows ReadyBoost. However, Kingston says the Password Traveler software will not operate properly if ReadyBoost cache is enabled on the drive. Terrific.
The data transfer rates are up to 20 MB/sec read and 10 MB/sec write.
The product is only available at the 256GB capacity point and is built to order, with collection a few days after the order is placed with one of Kingston's resellers or e-tailers. The price is £565.67 ex-VAT. ®