Scotland's Daily Record is running an interesting piece on the apparent remains of a crashed WWII German bomber which ended its days over Greenock in 1941, and which has now surfaced on Google Earth.
The Junkers 88 was allegedly downed by anti-aircraft fire during the "Greenock Blitz" in May of that year, a two-night assault which flattened 1,000 houses and claimed around 280 lives.
The Record says locals "recall a bomber crashing in the area but no wreck was ever found".
Now, though, Google Earth imagery has revealed "what looks like the skeleton of a plane lying at the bottom of the dam next to Whinhill golf course in the Renfrewshire town".
Air crash expert Gordon Lyons told the Record: "Crash spotters have walked by the reservoir thousands of times and never once seen a thing. However, the lake is quite deep, so it could well be that the sunken wreckage has been overlooked until now. It has taken a bird's-eye view of the site to solve the mystery. This is a very exciting discovery."
Local resident Paul Campbell said: "There was always talk of hidden war planes in the dam but no one was ever sure. I grew up thinking it was one of those stories you hear as a child but this image looks uncannily like the skeleton of a plane."
Sadly, the Record isn't treating readers to "this image", so we went and had a bit of a shufti at the most likely site next to said golf club (.kmz here):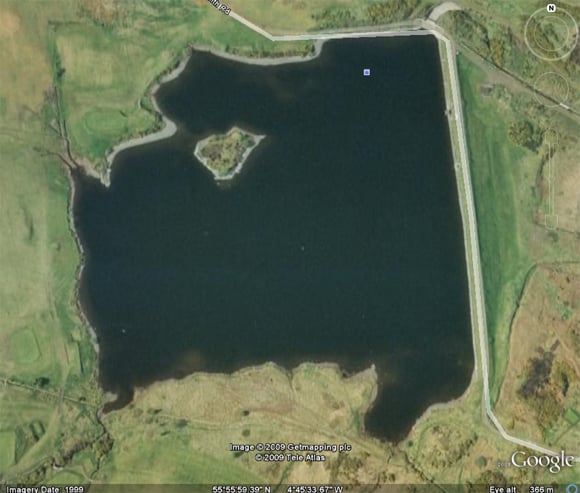 No joy, but we did turn up this rather unconvincing object just to the east (.kmz here):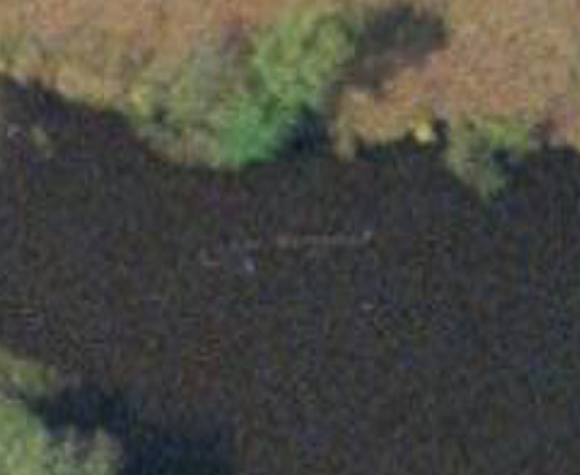 Whether that looks like a Junkers 88 we'll leave to you, and of course if anyone finds something more solid, give us a shout.
Ministry of Defence aviation historians are "investigating whether or not the object is indeed a World War II aircraft", so presumably they have something a bit more interesting to look at. ®