NASA's deluxe International Space Station toilet clapped out yesterday, meaning the 13 astronauts currently aboard the orbiting outpost will temporarily have to share the Russian "Waste Management System" and space shuttle Endeavour's facilities.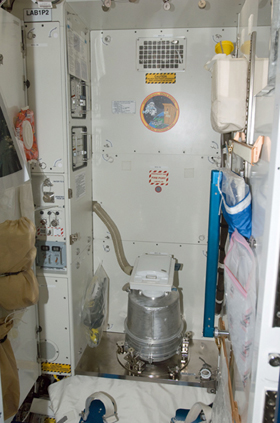 The agency explains that Mike Barratt and Frank De Winne will today be "replacing parts of the Destiny laboratory's Waste and Hygiene Compartment, or WHC" (pictured). It elaborates: "The parts likely were contaminated earlier today when the system's dose pump failed after running for about 15 minutes. The pump introduces the correct amount of chemicals into the system to help separate liquids from solid waste. About six litres of pre-treated water may have flowed into the pump separator and other areas it does not belong, flooding the separator."
The failure of the $19m Russian-built lavatory could prove interesting if, as cosmonaut Gennady Padalka claimed back in March, Russian and American ISS residents are obliged to use their own "national toilets".
Padalka suggested the Americans were adopting an increasingly isolationist stance towards their facilities, and was unwilling to allow cosmonauts to relieve themselves in its new loo.
He did, though, insist that cosmonauts would ignore the squabble "no matter what officials decide". In the circumstances, this is good news for NASA crew.
While NASA ponders its cantankerous plumbing, the STS-127 mission crew is getting on with putting the finishing touches to Japan's Kibo laboratory. On Saturday, Tim Kopra and Dave Wolf installed the lab's Exposed Facility during a five-and-a-half hour spacewalk.
Wolf and Tom Marshburn will later today venture outside to transfer ISS spare parts from a cargo carrier, which was extracted yesterday from Endeavour's cargo bay. NASA has further details in its mission summary and press pack (both pdf). ®
Similar topics