Review Wyplay is a French company that's aimed its Wyplayer directly at users of the Gallic equivalent of Freeview – TNT HD – but who also require media player functionality. It is, in essence, a high definition Personal Video Recorder combined with a media streamer, in a single box. It may offer everything the average Frenchman needs, but how well will it fare in Blighty?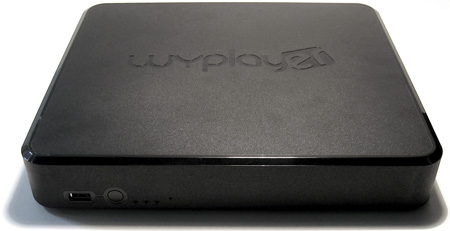 Wyplay's Wyplayer media player
The Wyplayer is a slim unit, almost square, measuring 275 x 240 x 45mm. The front panel has three LEDs that show status information, an IR receiver, and a USB port for plugging in mass storage devices. A tiny hole allows a paperclip to access the reset button. On the rear you'll find Ethernet, HDMI, composite video, S/PDIF digital audio output, left and right phono audio outputs, two more USB A connectors, a USB B and an input for the external power adaptor. There's a single UHF aerial connector, which feeds both tuners internally, and a pass-through output for the TV.
With no SCART connectors, there's no RGB output, and no component connectors; video output options of composite and HDMI are essentially at one extreme (composite) or the other (HDMI) The remote is very slender, just a little longer than a Mars bar, with just eleven buttons and a navigation wheel, but no channel numbers, coloured keys or any of the things we take for granted on a remote.
Installation is fairly straightforward, with an automatic wizard helping you through the setup; if you've plugged into Ethernet, it should automatically set up the connection and detect media servers on your network, using UPnP. There's also Wireless-N built in, which can be configured via the remote control.
The Wyplayer's interface is pretty easy to use, but you'll find yourself doing a lot of scrolling and clicking. Typically, when you enter a menu, you move up and down by pressing on the wheel to reach and item, then press right to actually reach the area where you make a choice, then use up and down again to set the value, and then press left.

French connection: Wot, no SCART?
When it comes to entering alphanumerics, there's an on-screen keyboard. To navigate, press the edges of the wheel, move the cursor by rotating it and select letters by pressing the centre. It's not quite as complicated as it sounds, but it's slower than having letters on a traditional keypad – mobile phone style.