This article is more than 1 year old
Optical add-on turns cameraphone into mobile lab
Strap-on microscope to help analyse bodily fluids
Medical boffins have redesigned the humble cameraphone, developing a strap-on microscope that's able to snap images of miniscule microbes.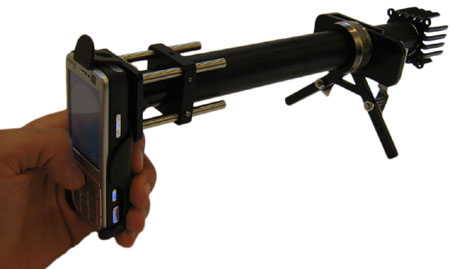 The cameraphone microscope can snap pictures of blood samples
Designed by a team at the University of California, the strap-on is designed to zoom in on blood and other bodily fluid samples that may contain nasty diseases.
In tests, the team connected to microscope onto a 3.2Mp Nokia N73 cameraphone and were able to capture colour images of malaria parasites, sickled red blood cells and tuberculosis bacilli.
The cameraphone microscope uses standard, inexpensive microscope eyepieces and objectives. Using different objectives allows the microscope's magnification and resolution to be adjusted, the team noted.
The microscope snapped this picture of malaria-infected blood
Medical nasties measuring a minimum of 1.2 micrometers across can be seen by the microscope. To put that into perspective, red blood cells typically measure between six and eight micrometers across.
Although good surrounding light levels result in the best microscope snaps, the team also built a battery-powered LED lamp and selection of accompanying filters into the strap-on – allowing it to function as a fluorescent microscope.
However, image quality can be affected by imperfections and aberrations on a mobile phone's lens, the team admitted.
At present, the phone simply records the image of what its camera sees through the lens, after which it's up to the doctors to analyse the image for signs of infection.

Different objectives allow the microscope's magnification and resolution to be adjusted
But the boffins claimed that "simple image processing software" may make it possible for the handset's processing capability and microscope to be used as a way of labelling and counting bacteria.
Healthcare workers currently perform such counts by eye, the team said, which is both time consuming and error prone.
It's doubtful you'll ever see the cameraphone microscope gracing high street stores in the UK. But the technology could prove a lifesaving benefit in areas where access to a cameraphone and mobile network is far easier than to a doctor, microscope and laboratory. ®