This article is more than 1 year old
Brother P-Touch 2100 label printer
Sign of the times
Review While paper dominates most printing issues, there are those who need a different kind of beast to print on plastic to produce long-lasting identification and warning labels. The old embossed Dymo tape of yore, adorning dad's tool drawers and just about every fuse box in the land, while still going today, has had to give way to more intricate labels with stylish fonts. A case in point is Brother's P-Touch 2100, a self-contained label printer, which can produce a wide variety of print effects on cut-to-length PET tape.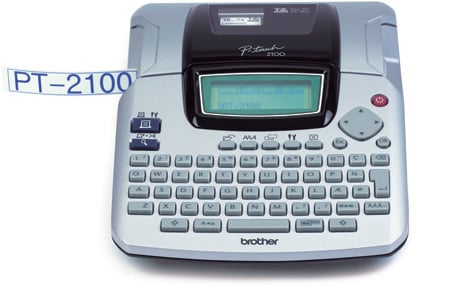 Brother's P-Touch 2100 label printer
If you're used to a printer being a big, heavy thing that sits in one place on a desk, churning out pages of black text and colour graphics, the P-Touch 2100 will come as a bit of surprise. Yes, it is intended for a very different kind of printing, but it also ably demonstrates what can be done to make a light, compact, self-contained printer, which can go where the work's needed.
The P-Touch 2100 is about the size of a printing desktop calculator, the kind with a hard copy print roll. It has a nearly full Qwerty keyboard set into its sloping front surface, with 'dead flesh' rubber keys, which are still quite adequate for the small amounts of text likely to be typed on them.
Most characters are included in the Qwerty set, but there's a distinct lack of punctuation. The missing symbols, which include straightforward things like exclamation marks and brackets, can be called up using the symbols menu and scrolling through until you find them. This is fine for more esoteric symbols, but it would be easier to have a second function key to get at the day-to-day ones.
The bitmapped 128 x 48 green LCD screen normally shows three lines of characters and displays what you type, but when accessing special functions, like font selection or label properties, it can show other combinations and sizes of character. It also displays the clip-art and symbols available in the printer's memory.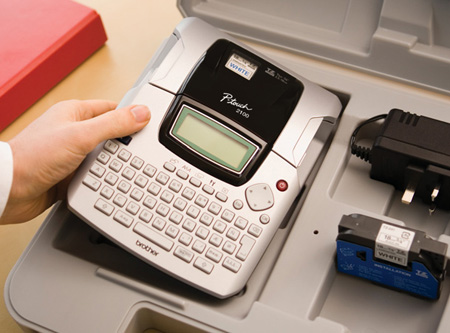 Label of love: complete with packing case for the serious signwriter
Two sockets on the right-hand side take power from the 9V power supply, included with the machine, and a USB connection to a PC. Underneath is a battery compartment, taking six AA cells, so the machine can be used completely free of the mains. To emphasise the portability of the printer, it comes complete with an electric drill-style plastic carrying case, so you can grab your P-Touch 2100 at short notice and dash to where labels are desperately needed.