Kingston SSD Now V
Excellent bang for your solid-state buck?
In synthetic tests such as HD Tach and CrystalDiskMark, the Kingston SSD Now V is trampled by the Intel and Patriot SSD drives and has a narrow advantage over the WD HDD. The Toshiba laptop drive performs at about half the level of the WD Caviar Black and trails home in last place in this field.
The SSD drives with Intel and Indilinx controllers support a read speed of 250MB/s while the SSD Now V can only manage 100MB/s, and this is reflected in our file-transfer tests as the Kingston operates at about half the pace of the Patriot Torqx.
Our file-transfer tests show that the SSD Now V is pretty much on a par with the WD Caviar Black desktop HDD, although it's a matter of swings and roundabouts. Transferring files within the Kingston SSD is a laborious process, perhaps because it doesn't have a cache chip. Transferring files between the test drive and the Intel X25-M demonstrates that the Kingston can serve up files faster than the WD hard drive but, conversely, when you're writing files, the WD has the advantage. The Samsung laptop drive trails far behind in every test.
Although the SSD Now V is relatively slow when you compare it to other SSDs, it's clear that Kingston has solved a major problem: the drive doesn't suffer from stutter. Kingston tells us that it went through six revisions of firmware to reach the stage where it was ready to release the SSD Now V, and we're happy to say that it has succeeded magnificently.
As SSDs go the Kingston is a cheapie but it still costs £1.45 per GB. By contrast, the Patriot costs £2.36 per GB and the Intel SSD costs £3.16 per GB, but the WD costs a mere 7.5p per GB. That's one twentieth the cost of the Kingston so you need a convincing reason to consider buying an SSD that is relatively expensive, especially when you consider that it's not demonstrably faster than the WD Caviar Black.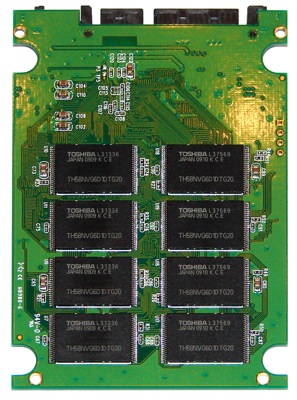 Flash fresh from Toshiba
Kingston tackles these issues very neatly by packaging the SSD Now V in four different products as 64GB and 128GB desktop and notebook kits. Each kit comes with a copy of Acronis True Image HD drive cloning software to make the transition from HDD to SSD as smooth and simple as possible. In addition, desktop kits are supplied with a pair of drive bay adaptors, while laptop kits are packaged with a USB caddy so you can use the drive externally is you choose.