This article is more than 1 year old
US Senate halts F-22 Raptor production
Stealth fighter disappears from spending plans
The US Senate voted yesterday 58 to 40 to halt production of the stealth F-22 Raptor, handing president Barack Obama a significant victory in his drive to curb defence spending.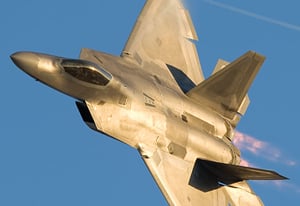 The vote cut $1.75bn for the Lockheed Martin Corp aircraft (pictured) from a $680bn total defence bill. Back in April, US Defence Secretary Robert Gates decided, with Obama's backing, to scrap the programme once it had delivered the 187 F-22s already produced or under construction.
Reuters notes that the decision "does not necessarily kill the programme, as the House of Representatives included funding for the state-of-the-art fighter in its bill, which sets military spending priorities".
However, Obama has previously insisted that he will use a presidential veto to enforce his will should legislators fail to fall into line.
He said after the vote: "At a time when we're fighting two wars and facing a serious deficit, this would have been an inexcusable waste of money."
Republican Senator John McCain praised his former presidential rival's firmness on the issue, and described the Senate vote as a "big victory for the American taxpayer".
The F-22 didn't, however, go down without a fight. Its Senate supporters claimed the cancellation could threaten national security and 95,000 jobs. Democratic Senator Chris Dodd of Connecticut said: "To give up an aircraft of this sophistication and this capability, and simultaneously in an economic situation such as we're in .... I think is terribly shortsighted."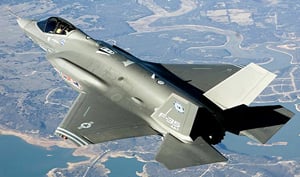 Defence Secretary Gates and the Pentagon always considered extravagant F-22 funding a threat to their preferred "affordably stealthy" F-35 Lightning II joint strike fighter (pictured) - another Lockheed Martin project.
The Royal Navy has already ordered some jumpjet versions of the F-35 for its new carrier fleet, and we previously described the availability of this aircraft as "more or less critical to the UK carrier programme's survival".
It appears, then, that the Senate has delivered good news for Obama, the US taxpayer and Britain's future seaborne military capability. ®