This article is more than 1 year old
UK's first solar-powered Bluetooth speaker switches on
No cables, just sunlight
British barbecue fans no longer need to drag cabled living room speakers onto the patio to liven up their meat feasts. The UK's first solar-powered Bluetooth speaker system has launched in Blighty.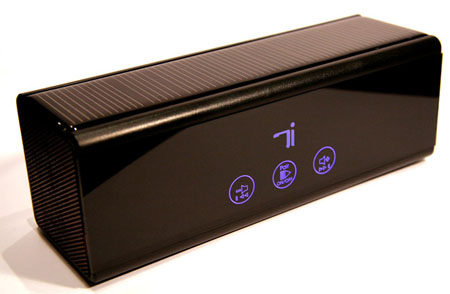 Solar Sound does away with cables, but its solar panel's only a back-up power source
The Solar Sound unit from UK firm Devotec Industries allow you to send music from your mobile phone or MP3 player to the speaker system, without worrying about tripping over a data-transfer cable as you scoff down your fourth hotdog.
An integrated solar panel also means that the unit doesn't have any annoying power cables to contend with, either. Although the solar panel is only designed to "support" the Solar Sound's integrated battery, Devotec claimed that you'll get eight hours of continuous "medium volume" music when the two power sources are used in unison.
Solar Sound supports the majority of phone models, Devotec said, including those from the likes of Nokia and Rim. The iPhone is also supported, provided you've updated to firmware version 3.0.
A rear-mounted jack enables MP3 devices or phones that don't support Bluetooth to be used.
Two 2W speakers are built into the 166 x 50 x 50mm system, which also has a touchscreen display and integrated microphone so you can take phone calls on it too.
Devotec's Solar Sound spear system is available online, priced at £50 ($81/€57). ®