Zookz - the bizarre Freetard-Paytard hybrid download service registered in Antigua - has stopped serving up music and movies and has refunded its customers.
Zookz was offering movies and songs, and, like The Pirate Bay, did so without the rights holders' permission and without paying the creators. It still wanted money for access to the service, however. The company argued this was all perfectly OK; as compensation for a dispute with the US over offshore gambling, Antigua was granted a range of options including an exemption from international copyright agreements. But Antigua hasn't exercised this option, and was embarrassed by Zookz's claim. It distanced itself from the company in a statement, promising a legal investigation:
"Zookz.com is not authorized by the Government of Antigua and Barbuda, or by the World Trade Organization, to offer entertainment downloads in contravention of international law... The Zookz.com matter has been referred to the Antiguan Ministry of Legal Affairs for a full investigation."
That doesn't look good for anyone who hopes Antigua will become a pirate utopia, or Temporary Autonomous Zone.
Zookz went offline this week but returned later the same day with this message: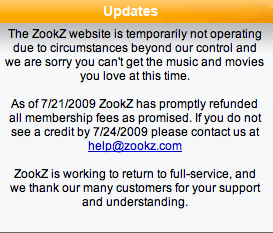 Posters to analyst Matt Rosoff's column at CNET confirm that early subscriptions have indeed been refunded.
When I covered Zookz last week, I wondered what would motivate anybody to reach for their credit card. If you go the legit route and get songs from Amazon or iTunes, you may be a "Paytard", but you at least have the knowledge that money will be returned to the creators. If you go to The Pirate Bay, or some other unlicensed service, you can get the same material for free. Many do so, stating that they are cutting out a "corrupt middle man" who doesn't pay the creators.
So why on earth pay $9.99 a month to a middle man who absolutely, 100 per cent guarantees to rip off the creators? It's like subscribing to a tramp-kicking service.
Well, I got some interesting answers - thanks for those - and will share them shortly. ®