Pentax Optio W80
Gritty contender for watersports enthusiasts
Review There are some things you should never mix with water, such as a fine malt or electricity. Another is your digital camera, unless you happen to be the proud owner of a Pentax Optio W80.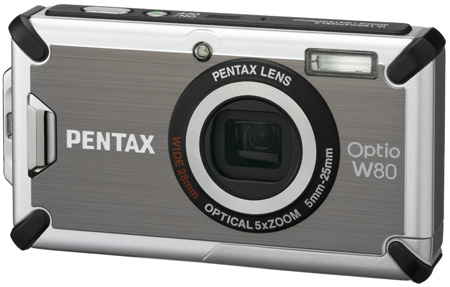 Waterproof and grit resistant: Pentax's Optio W80
This novel-looking camera is designed to be used underwater. It has a JIS waterproof grade eight spec, which means it can operate down to a depth of five metres for up to two hours. It can operate in temperatures as low as -10°C. No need for any fancy and expensive underwater housing accessories with this baby: just take the plunge and snap away, well, at least until the battery runs out.
And that's not all. The Optio W80 also has a JIS dust proofing grade six rating, so it's going to keep out tiny grains of sand and other minute particles that might gum up the works. It's tough too, with Pentax claiming it can withstand a drop of one metre onto thick plywood. Despite this, we would strongly recommend treating the Optio W80 with a little care, not least because dropping the camera could damage the waterproof housing. So there you have it: a camera that is waterproof, dustproof, and has graduated from the school of hard knocks. But is it any good?
The general control layout is fairly typcal, but you can't miss the protective rubberised edging. The Optio W80's look reminds us of a miniature flight case and Pentax clearly aspires to create an impression of robustness. The camera has a 2.5in LCD screen composed of 230,000 dots and uses a lithium-ion battery and SD/SDHC cards. You even get 33.7MB of internal memory. Protection includes a tough metal and rubber camera body, toughened LCD screen and lens cover and, of course, a non-telescopic zoom.
The battery and card slot cover uses a small locking lever, which has to be pushed, before the cover slides open. The inside of the cover has a layer of rubber, which forms a watertight seal over battery and card when closed. And having used the Optio W80 underwater, we can attest that this arrangement works well.

Sealed shooter: no bulky waterproof cover required
The Optio W80 has a 1/2.3in CCD with 12.1 effective megapixels, a resolution range of 4000 x 3000 down to VGA and an electrically driven 5-25mm F/3.5-5.5 optical zoom – equivalent to 28-140mm on a 35mm camera. It has average shutter speed choices of 1/1500-1/4sec and extended to 4 seconds in Night Scene mode.