This article is more than 1 year old
Pentax Optio W80
Gritty contender for watersports enthusiasts
The 64-6400 ISO range drops the resolution to 5Mp for ISO 3200 and 6400 images. It also features a face detection system which detects for up to 32 faces, HD movie recording at 1280 x 720 resolution with 30fps and 15fps options, and VGA and QVGA video at 15fps. The camera comes with an instruction book on a CD-Rom, plus ACDsee photo management software.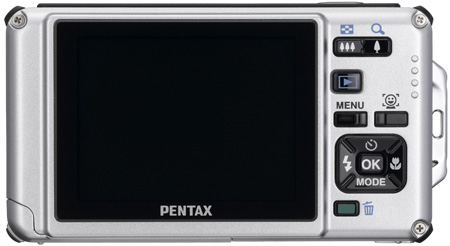 Pity the zoom rocker isn't a bit bigger
Pentax claims that the Optio W80 is so compact that it's like carrying a mobile phone in your pocket, but this is pushing things a bit. That said, it is on the small side, measuring 99.5 x 56 x 24.5mm and weighing 150 grams with battery and card. The front has a nice brushed metal finish and a small metal finger rest on the right hand side adds to the comfort.
From power on to the first shot takes a little over three seconds and switch off is very quick – about one second. You can operate the Optio W80 in auto mode or choose from another 23 options that include program, night scene, panorama, digital wide (which combines two frames), landscape and pet. And this being an underwater camera, there are special modes for shooting still and video images underwater.
Most settings are changed via the menu and mode buttons, which is a double-edged sword. On the one hand, it means fewer buttons to worry about, but, it does mean you have to use various menus to change most parameters. Even so, the menu system isn't bad. Press the menu button and you're presented with a multi-page menu that is navigated using the multi-controller. One disappointment is that if you change a setting, and then return to the menu, you have to go all the way back to the start, whereas some menus return to the last parameter you changed.
The menu content depends on the mode you're in, but even in auto mode, you get a fair selection of settings to tweak including, file size and compression level, auto-focus setting and even restrict the ISO range, which can be set between 64-100, 64-1600, and several more options in between. The mode button uses the familiar Pentax icon-based menu, which includes a short text description, so there's little chance of getting confused.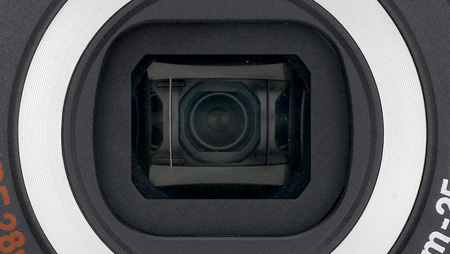 The lens remains within the unit, rather than projects out from the body
Should you want to go into full auto mode quickly, just press the green mode button and the Optio W80 takes cares of business, leaving you to concentrate on the shot. Manual white balance and manual focus are also available for the more adventurous. The latter proved better than we had anticipated, with the zoom rocker providing pretty smooth focusing.