This article is more than 1 year old
Pentax Optio W80
Gritty contender for watersports enthusiasts
However, instead of the dedicated face detection/smile capture button on the back, we would have liked a dedicated underwater button, enabling users to quickly set-up the camera for shooting below the surface. There's also a choice of two macro modes, which can be quickly accessed via the multi-controller. Normal macro is designed for shooting objects 10-60cm away from the camera, while 1cm macro mode is for objects 1-30cm away. All in all, the Optio W80 is fine to handle, although we wish the zoom rocker was slightly larger.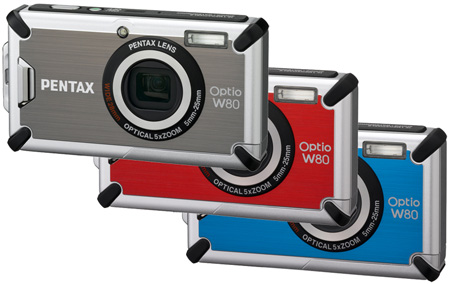 Rugged with colour options too
When it comes to performance, the Optio W80 is certainly rugged. When we first plunged the camera into the water, we were somewhat disconcerted by the sight of a bubble trail emerging from the beneath the body, but this turned out to be air trapped in the tripod bush. The Optio W80 is most definitely waterproof and neither camera or battery and memory card suffered any ill effects from their underwater experiences. We tried the Optio W80 in a sink and in our local river and it came up trumps. The underwater mode disables the flash, but even in our somewhat murky river, the Optio W80 coped with the less than ideal shooting conditions.
A shame then, that its terrestrial images were not so impressive. We have noticed a tendency for Pentax compacts to overexposure a little and also boost the ISO level, and in the process, increase noise. And noise was an issue, even at low ISO speeds. Use the ISO 64 and ISO 100 settings and there are no problems, but there is a significant increase in noise when you hit ISO 200. By ISO 800, things are looking pretty ropey, which begs the question as to why Pentax has bothered offering up to ISO 6400?
The panoramic system worked well, but the night landscape mode was marred by noise, as the ISO is boosted to around ISO 800. Video was a disappointment too – the resolution was coarse, colours were anaemic, and while motion was pretty smooth, moving objects would occasionally stutter.
Verdict
So there you have it: if you're looking for a camera to use in the great outdoors and, in particular, underwater then the Optio W80 is a good choice when it comes to standing up against the elements. You can use this camera on a beach, up a mountain or below water, safe on the knowledge that the Optio W80 will come to no harm, provided you don't do anything silly. A pity though, that the resulting images may not look so robust. ®
More Waterproof Camera Reviews...

Canon
Powershot D10

Casio Exilim EX-Z75
and EWC-10 underwater case

Oregon Scientific
Action Cam ATC3K

Olympus Mju 770SW

Pentax Optio W80
Shockproof, dustproof and waterproof – ideal for the outdoors, pity the image quality lets it down.